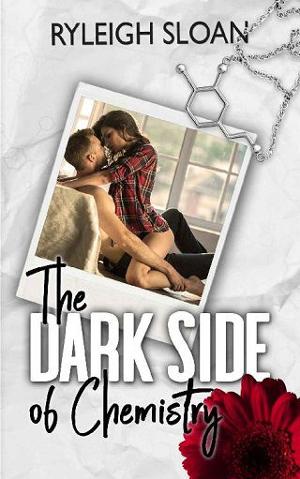 One mistake.
They say you can't be in love with two people at the same time, but that's exactly what happened to me. I knew it would catch up with me one day but I didn't expect that when I went down, I'd take Trent and Jensen along with me. Trent has always been the loving and dependable one—Jensen, unpredictable, cruel . . . and compelling.
When Trent was given orders to deploy to Afghanistan to test a highly classified and dangerous serum, I couldn't shake the feeling that life was about to irrevocably change. Little did I know how much. My secret was just what an unknown enemy needed to destroy our lives.
And he did.
I made a mistake once, and now we're all paying for it…
This book contains cheating and graphic scenes.
Book Details
File Namethe-dark-side-of-chemistry-by-ryleigh-sloan.epub
Original TitleThe Dark Side of Chemistry
Creator

Ryleigh Sloan

Languageen
IdentifierMOBI-ASIN:B07P83KZ48
Date2019-03-24T16:00:00+00:00
File Size357.265 KB
Table of Content
1. Part 1

Chapter One
Chapter Two
Chapter Three
Chapter Four
Chapter Five
Chapter Six
Chapter Seven
Chapter Eight
Chapter Nine
Chapter Ten
Chapter Eleven
Chapter Twelve
Chapter Thirteen
Chapter Fourteen
Chapter Fifteen
Chapter Sixteen
Chapter Seventeen
Chapter Eighteen
Chapter Nineteen
Chapter Twenty
Chapter Twenty-One
Chapter Twenty-Two
Chapter Twenty-Three
Chapter Twenty-Four
Chapter Twenty-Five
Chapter Twenty-Six
Chapter Twenty-Seven
Chapter Twenty-Eight
Chapter Twenty-Nine

2. Part 2

Chapter Thirty
Chapter Thirty-One
Chapter Thirty-Two
Chapter Thirty-Three
Chapter Thirty-Four
Chapter Thirty-Five
Chapter Thirty-Six
Chapter Thirty-Seven
Chapter Thirty-Eight
Chapter Thirty-Nine
Chapter Forty
Chapter Forty-One
Chapter Forty-Two
Chapter Forty-Three
Chapter Forty-Four
Chapter Forty-Five
Chapter Forty-Six
Chapter Forty-Seven
Chapter Forty-Eight
Chapter Forty-Nine
Chapter Fifty
Chapter Fifty-One
Chapter Fifty-Two
Chapter Fifty-Three
Chapter Fifty-Four
Chapter Fifty-Five
Chapter Fifty-Six
Chapter Fifty-Seven
Chapter Fifty-Eight
Chapter Fifty-Nine
Chapter Sixty
Chapter Sixty-One
Chapter Sixty-Two
Chapter Sixty-Three
Epilogue

3. Acknowledgments
4. From the Author
5. About The Author
6. More Work by Me
7. Connect with Me