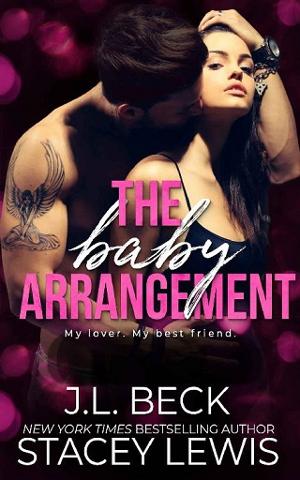 The arrangement is simple, with only two rules:
Rule #1: Don't fall in love
Rule #2: Revert back to rule one when necessary
I thought I could stick to the rules, but with a girl like Fallon I should've known rules were only meant to be broken. We've been best friends since elementary school, and she's the only woman I want for more than a one night stand.
No matter how much I'm attracted to her, and I'm pretty f-ing attracted to her, I know she deserves better than a man who refuses to commit.
Then my father gives me an ultimatum:
Have a baby…or he's selling the business my great-grandfather started over fifty years ago to a stranger.
Winston Industries is mine and I'm not about to let someone else take it from me.
Too many drinks has Fallon volunteering to help me with my problem and our agreement is born.
There's just one little problem…Everything changes the moment I slip inside her.
Now I'm pretty sure we both know there's no denying what we want anymore.
To hell with the rules… I'm going to claim what's mine before it's too late.
Book Details
File Namethe-baby-arrangement-by-j-l-beck.epub
Original TitleThe Baby Arrangement (A Winston Brother's Novel #1)
Creator

J.L. Beck

Languageen
IdentifierMOBI-ASIN:B07C9FBPQK
Date2018-03-26T16:00:00+00:00
File Size1.121 MB
Table of Content
1. Title Page
2. Contents
3. Copyright
4. Reader Warning
5. Newsletter
6. Chapter 1
7. Chapter 2
8. Chapter 3
9. Chapter 4
10. Chapter 5
11. Chapter 6
12. Chapter 7
13. Chapter 8
14. Chapter 9
15. Chapter 10
16. Chapter 11
17. Chapter 12
18. Chapter 13
19. Chapter 14
20. Chapter 15
21. Chapter 16
22. Chapter 17
23. Chapter 18
24. Chapter 19
25. Chapter 20
26. Chapter 21
27. Chapter 22
28. Chapter 23
29. Chapter 24
30. Chapter 25
31. Epilogue
32. Thank You
33. The Baby Mistake
34. Bad for You
35. Chapter 1
36. Chapter 2
37. Chapter 3
38. Chapter 4
39. Chapter 5
40. Chapter 6
41. Bad for Him
42. Big Bad Daddies
43. Chapter 1
44. Chapter 2
45. Chapter 3
46. Chapter 4
47. Chapter 5
48. Chapter 6
49. Chapter 7
50. Chapter 8
51. Chapter 9
52. Chapter 10
53. Chapter 11
54. Epilogue
55. Teasing Daddy's Best Friend
56. Chapter 1
57. Chapter 2
58. Chapter 3
59. Chapter 4
60. Chapter 5
61. Chapter 6
62. Chapter 7
63. Chapter 8
64. Chapter 9
65. Chapter 10
66. Chapter 11
67. Chapter 12
68. Chapter 13
69. Chapter 14
70. Chapter 15
71. Epilogue
72. His Obsession
73. Chapter 1
74. Chapter 2
75. Chapter 3
76. Chapter 4
77. Chapter 5
78. Chapter 6
79. Chapter 7
80. Chapter 8
81. Chapter 9
82. Chapter 10
83. Chapter 11
84. Chapter 12
85. Epilogue
86. Hung
87. Chapter 1
88. Chapter 2
89. Chapter 3
90. Chapter 4
91. Chapter 5
92. Chapter 6
93. Chapter 7
94. Chapter 8
95. Chapter 9
96. Chapter 10
97. Chapter 11
98. Never Wanted More
99. Chapter 1
100. Chapter 2
101. Chapter 3
102. Chapter 4
103. Chapter 5
104. Chapter 6
105. Chapter 7
106. Chapter 8
107. Chapter 9
108. Chapter 10
109. Chapter 11
110. Chapter 12
111. Chapter 13
112. Chapter 14
113. Chapter 15
114. Chapter 16
115. Chapter 17
116. Chapter 18
117. Chapter 19
118. Chapter 20
119. Punishing Their Virgin
120. Chapter 1
121. Chapter 2
122. Chapter 3
123. Chapter 4
124. Chapter 5
125. Chapter 6
126. Chapter 7
127. Chapter 8
128. Chapter 9
129. Chapter 10
130. Chapter 11
131. Chapter 12
132. Chapter 13
133. Chapter 14
134. Chapter 15
135. Chapter 16
136. Chapter 17
137. Chapter 18
138. Chapter 19
139. Chapter 20
140. Chapter 21
141. Chapter 22
142. Chapter 23
143. Chapter 24
144. Punishing Their Brat
145. Seducing the Virgin
146. Chapter 1
147. Chapter 2
148. Chapter 3
149. Chapter 4
150. Chapter 5
151. Chapter 6
152. Chapter 7
153. Chapter 8
154. Chapter 9
155. Chapter 10
156. Chapter 11
157. Seduced by the Billionaire
158. Their Best Friend's Little Sister
159. Chapter 1
160. Chapter 2
161. Chapter 3
162. Chapter 4
163. Chapter 5
164. Chapter 6
165. Chapter 7
166. Epilogue
167. The Billionaire's Nanny
168. Chapter 1
169. Chapter 2
170. Chapter 3
171. Chapter 4
172. Chapter 5
173. Chapter 6
174. Chapter 7
175. Chapter 8
176. Chapter 9
177. About J.L. Beck
178. About Stacey Lewis