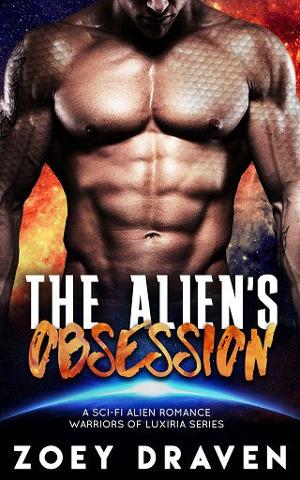 Welcome to Luxiria, where the twin suns are hot and the alien warriors are hotter…
On Earth, Lainey was the beautiful girl, from a wealthy family, that enthralled thousands of people with her gift of music…a girl who had everything. Or so it seemed…and then she was abducted by aliens. When she's rescued from an intergalactic trafficking ring by Luxirians—huge, pierced, seven-foot tall alien warriors—Lainey lashes out and rebels when taken to their home planet. And when she hears that Luxirians have a beast inside them that comes alive for their fated mate? No, thank you—beam her up, Scotty!
Too bad she's too nosy for her own good and stumbles into the path of an overbearing, dominant alien who demands her complete surrender.
Ambassador Kirov, the Prime Leader's technology advisor, is a fierce warrior with an unparalleled intelligence that makes him even deadlier. Battling demons of his own, the last thing he expects is to catch a human female, with hair the color of fire and a body that makes him burn, spying on him late at night. When his animalistic Instinct awakens for her Kirov knows he will have to fight to win his little hellion, who tempts his darkest desires and challenges him at every turn.
But he's running out of time and he'll have to do something drastic to win her heart, her mind…and her body. Or else he loses her forever.
Book Details
File Namethe-aliens-obsession-by-zoey-draven.epub
Original TitleThe Alien's Obsession (A SciFi Alien Warrior Romance) (Warriors of Luxiria Book 6)
Creator

Zoey Draven

Languageen
IdentifierMOBI-ASIN:B07M7DT977
Date2019-01-06T18:30:00+00:00
File Size370.359 KB
Table of Content
1. Title Page
2. Copyright
3. Contents
4. Chapter 1
5. Chapter 2
6. Chapter 3
7. Chapter 4
8. Chapter 5
9. Chapter 6
10. Chapter 7
11. Chapter 8
12. Chapter 9
13. Chapter 10
14. Chapter 11
15. Chapter 12
16. Chapter 13
17. Chapter 14
18. Chapter 15
19. Chapter 16
20. Chapter 17
21. Chapter 18
22. Chapter 19
23. Chapter 20
24. Chapter 21
25. Chapter 22
26. Chapter 23
27. Chapter 24
28. Chapter 25
29. Chapter 26
30. Chapter 27
31. Chapter 28
32. Chapter 29
33. Chapter 30
34. Epilogue
35. More From Zoey
36. Kraving Khiva
37. Thank You!
38. About the Author