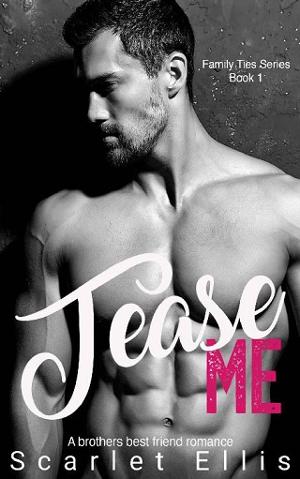 Seriously though…Lucas irritates the hell out of me.
My brother's best friend Lucas is in the same pro football team as him and when Lucas got badly injured during a game, my mom wanted ME to come and babysit him. Sorry, did I say babysit? I meant look after!
Lucas has been an almost permanent fixture in our house for as long as I can remember. We seem to constantly bicker about stupid stuff but the thing is, I can't help but notice the man he has become. I pray for another hot summer day when he might grace our house shirtless again. With sweat beading down his body, I swear I never felt so tempted to lick a man. The last time that happened, the sight of his body gave me something to dream about.
The thing is that I'm not even slightly domesticated, I have no idea how I'm supposed to look after an injured football player, but I do know one thing. I probably shouldn't have walked into the bathroom that day.
With Lucas dressed in nothing but a teeny towel, it was probably always going to spell out trouble.
Book Details
File Nametease-me-by-scarlet-ellis.epub
Original TitleTease Me: A brothers best friend romance (Family Ties Series - Book 1)
Creator

Scarlet Ellis

Languageen
IdentifierMOBI-ASIN:B07G9HTBLB
Date2018-08-06T16:00:00+00:00
File Size141.360 KB
Table of Content
1. Title Page
2. Tease Me Book 1
3. Contents
4. Chapter 1
5. Chapter 2
6. Chapter 3
7. Chapter 4
8. Chapter 5
9. Chapter 6
10. Chapter 7
11. Chapter 8
12. Chapter 9
13. Chapter 10
14. Chapter 11
15. Chapter 12
16. Epilogue - Six Months Later
17. Destiny
18. Also by Scarlet Ellis
19. About the Author