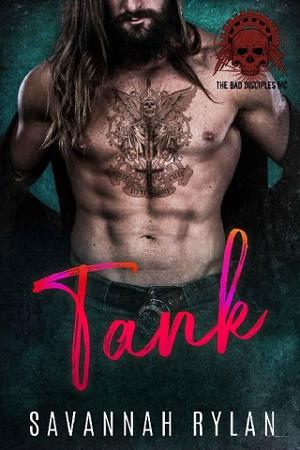 She took care of me, and now I'll take care of her.
After being shot, the guys decide I have to go to a real doc.
Luckily she's a five foot two blonde bombshell with legs for days.
Go ahead baby, cure me.
I'll make sure to repay her for her kindness.
Again and again.
But when she gets pregnant with my baby, I realize the club might not be the only thing in life.
Can I have two families?
When both are threatened, I have to decide.
Noelle or the Bad Disciples.
Family, or blood.
Nobody touches either when I'm around.
Book Details
File Nametank-by-savannah-rylan.epub
Original TitleTank (The Bad Disciples MC Book 3)
Creator

Savannah Rylan

Languageen
IdentifierMOBI-ASIN:B075JRRT73
Publisher

Pink Empire Publishing

Date2017-09-09T16:00:00+00:00
File Size461.532 KB
Table of Content
1. Epilogue
2. Epilogue
3. Epilogue
4. Tank
5. Noelle
6. The End
7. Turn the page for Royally Bent
8. Royally Bent
9. Teegan
10. Cort
11. Turn the page for Gunner
12. Gunner
13. Brooklyn
14. Mailing List
15. About Savannah Rylan
16. More Books by Savannah Rylan