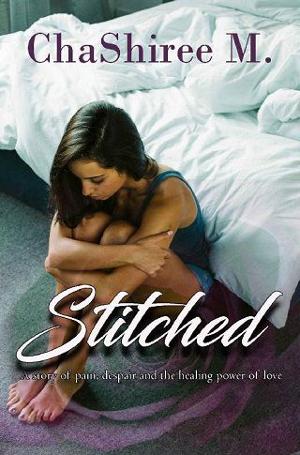 Lydia has never known love.
Born to a mother who didn't care, she has only ever known pain. Bullied in school her whole life, if it wasn't for her best friend she might not be alive.
Her life is finally looking up as she goes off to college. Starting a new chapter, with her bestie by her side.
Until tragedy strikes. She should have known her life would never be good.
Primed to end it all, she is shocked to learn, she is not the only one living in the darkness.
Perhaps together, they can find the light.
Book Details
File Namestitched-by-chashiree-m.epub
Original TitleStitched: A Story of Pain, Despair and The Healing Power of Love
Creator

ChaShiree M.

Languageen
IdentifierMOBI-ASIN:B07X4B2LCC
Date2019-09-09T16:00:00+00:00
File Size141.663 KB
Table of Content
1. Title Page
2. Contents
3. Dedication
4. Blurb
5. Author's Note
6. The End in the Beginning
7. Invisibility Cloak
8. It should have been me
9. Not Her
10. Maybe something like hope
11. More than a second chance
12. Let there be light
13. The Beginning of Our Forever
14. About the Author
15. Acknowledgments
16. Also by ChaShiree M.