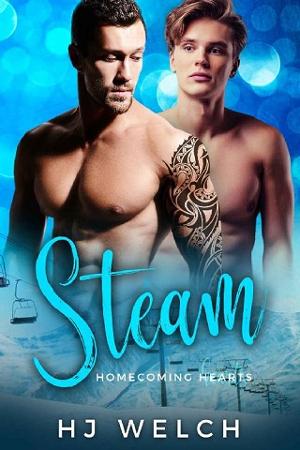 Bad boy movie star Trent Charles is more famous for his outrageous behavior than he is for his acting these days. After one scandal too many, his manager sends him home to the snowy ski slopes of Wyoming to get his life together. No parties, no fast cars, and certainly no women.
Ashby Wilcott is done with bad boys. His heart is broken from his last relationship disaster. A few weeks of peace and quiet in the mountains is just what he needs. He is absolutely not interested in moody Trent Charles, even if he is hot enough to melt snow with his rippling muscles and mysterious ways. Good thing Trent is straight.
But the two men can't seem to stay apart. Trent finds himself pretending to be Ashby's boyfriend, a lie that gets Ashby invited to a wedding as Trent's guest. Regardless of Trent's protests that he's not interested in the beautiful Ashby in that way, the chemistry between the two steams up. With only a few weeks together, what harm can they do having a little fun?
As outside forces threaten to tear them apart, Trent realizes Ashby means more to him than just a fling. In fact, he'll do anything to protect him.
Book Details
File Namesteam-by-hj-welch.epub
Original TitleSteam (Homecoming Hearts Book 4)
Creator

HJ Welch

Languageen
IdentifierMOBI-ASIN:B07CHBKZJF
Date2018-04-17T16:00:00+00:00
File Size316.766 KB
Table of Content
1. Title Page
2. Copyright
3. Dedication
4. Contents
5. Sneak Peek
6. 1. Trent
7. 2. Ashby
8. 3. Trent
9. 4. Ashby
10. 5. Trent
11. 6. Ashby
12. 7. Trent
13. 8. Ashby
14. 9. Trent
15. 10. Ashby
16. 11. Ashby
17. 12. Trent
18. 13. Ashby
19. 14. Trent
20. 15. Ashby
21. 16. Trent
22. 17. Ashby
23. 18. Trent
24. 19. Trent
25. 20. Ashby
26. 21. Ashby
27. 22. Trent
28. 23. Ashby
29. 24. Trent
30. 25. Ashby
31. 26. Trent
32. 27. Ashby
33. 28. Trent
34. 29. Ashby
35. 30. Trent
36. 31. Ashby
37. 32. Trent
38. Epilogue
39. Acknowledgments
40. Thank You
41. About the Author
42. Also Available
43. Also Available
44. Also Available
45. Coming Soon
46. Also Available