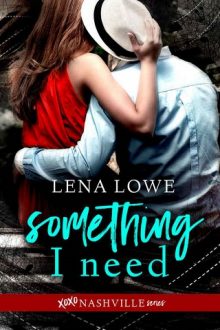 Jonte Williamson has a dream: become Nashville's next big star. Finding herself unexpectedly homeless hot off the plane wasn't part of her grand plan.
Cash Bellini is a simple man: he loves his twin sister, Dolly, hates country music, and stays far away from anything more complicated than that.
When Jonte stumbles into Cash's bar, helping out the homeless country music wannabe is the last thing on his agenda. Pity someone forgot to send the memo to his too-big heart and meddling twin. Throw in a pair of baby blue cowboy boots, a pool table and a splash of tequila, and these two are set to ignite in a hot sexy mess! Will either of their hearts survive the tug-o-war between what they want and what they need?
Book Details
File Namesomething-i-need-by-lena-lowe.epub
Original TitleSomething I Need (xoxo Nashville Book 1)
Creator

Lena Lowe

Languageen
IdentifierMOBI-ASIN:B01LLQXY40
Date2016-09-14T03:00:00+00:00
File Size327.803 KB
Table of Content
1. Copyright
2. Dedication
3. Epigraph
4. Chapter 1
5. Chapter 2
6. Chapter 3
7. Chapter 4
8. Chapter 5
9. Chapter 6
10. Chapter 7
11. Chapter 8
12. Chapter 9
13. Chapter 10
14. Chapter 11
15. Chapter 12
16. Chapter 13
17. Chapter 14
18. Chapter 15
19. Chapter 16
20. Chapter 17
21. Chapter 18
22. Chapter 19
23. Chapter 20
24. Chapter 21
25. Chapter 22
26. Chapter 23
27. Chapter 24
28. Chapter 25
29. Chapter 26
30. Chapter 27
31. Chapter 28
32. Chapter 29
33. Chapter 30
34. Chapter 31
35. Chapter 32
36. Chapter 33
37. Chapter 34
38. Chapter 35
39. Chapter 36
40. Chapter 37
41. For you, my lovely readers
42. Acknowledgments
43. Another Love – xoxo Nashville book #2
44. Prologue