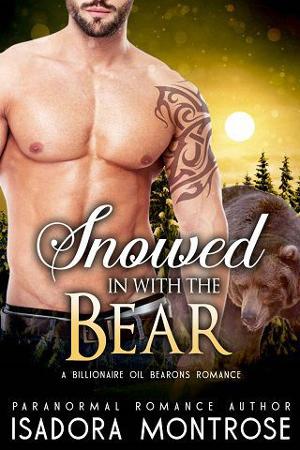 Snarling alpha male bear shifter tempts curvy she-grizzly.
Can protective, possessive Calvin prove he's more than a rich playboy?
Fabulously wealthy oil boss Calvin is used to sophisticated city women. This playboy shifter doesn't understand why his inner black bear has the hots for earthy she-bear Amanda.
Curvy Amanda may have retired from the army but she's kept her take-no-prisoners attitude.
She's older. She's mocking, combative, and a grizzly. She also outranks him.
So why does this reservist find her so smoking hot?
Amanda lost her beloved husband, but she's not looking to replace her hero with any weekend soldier. It's not right that this black bear makes her grizzly hormones howl.
When Calvin rescues her from a deadly blizzard, will this be the opportunity to let their lust burn itself out?
And what happens if this she-grizzly does fall for a forbidden black bear?
Book Details
File Namesnowed-in-with-the-bear-by-isadora-montrose.epub
Original TitleSnowed in with the Bear
Creator

Montrose, Isadora

Languageen
Identifier4175281803
Publisher

Isadora Montrose

Date2019-03-12
File Size212.448 KB
Table of Content
1. Table of Contents
2. COPYRIGHT
3. BOOKS BY ISADORA MONTROSE
4. SEXY SNEAK PEEK
5. A NOTE TO THE READER
6. SNOWED IN WITH THE BEAR
7. CHAPTER ONE
8. CHAPTER TWO
9. CHAPTER THREE
10. CHAPTER FOUR
11. CHAPTER FIVE
12. CHAPTER SIX
13. CHAPTER SEVEN
14. CHAPTER EIGHT
15. CHAPTER NINE
16. CHAPTER TEN
17. CHAPTER ELEVEN
18. CHAPTER TWELVE
19. CHAPTER THIRTEEN
20. CHAPTER FOURTEEN
21. CHAPTER FIFTEEN
22. CHAPTER SIXTEEN
23. CHAPTER SEVENTEEN
24. CHAPTER EIGHTEEN
25. CHAPTER NINETEEN
26. CHAPTER TWENTY
27. CHAPTER TWENTY-ONE
28. BEAR FATE PREVIEW

BEAR FATE: CHAPTER ONE
BEAR FATE: CHAPTER TWO

29. ABOUT THE AUTHOR
30. ALSO BY ISADORA MONTROSE