Sixty Nine by Sosie Frost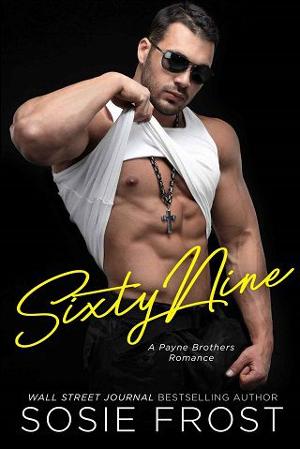 Varius Payne is a guilty pleasure that tempts a girl to sin…
The agreement was simple—no names, no confessions, and absolutely no falling in love. We met in secret every week, our nights so hot it'd make the Devil sweat and angels blush. Sure, Varius kept his secrets, but I never needed the truth…
…Until the day we came face-to-face outside our hotel room, working together to coordinate his small-town's Christmas pageant. Suddenly, I'm choreographing snowflakes, wrangling alpacas into the Nativity scene, and snapping like a gingerbread cookie when the choir goes on hunger strike.
And just when it couldn't get any worse…which commandment does a girl break when she falls for the town's ex-minister?
Varius needs a savior, but I lost my halo a long time ago. Saving him from those demons risks more than breaking our hearts.
Sometimes, a man can't heal from the sins of his past. But a good woman can help him forget.
It'd be a match made in Heaven…
If we hadn't detoured through Hell.
File Name:sixty-nine-by-sosie-frost.epub
Original Title:Sixty Nine: A Payne Brothers Romance
Creator:

Frost, Sosie

Language:en
Identifier:2601082941
Date:2018-12-24
File Size:696.046 KB
Table of Content
1. Title Page
2. Copyright
3. Dedication
4. About the Author
5. Contents
6. Prologue
7. Chapter 1
8. Chapter 2
9. Chapter 3
10. Chapter 4
11. Chapter 5
12. Chapter 6
13. Chapter 7
14. Chapter 8
15. Chapter 9
16. Chapter 10
17. Chapter 11
18. Chapter 12
19. Chapter 13
20. Chapter 14
21. Chapter 15
22. Chapter 16
23. Chapter 17
24. Chapter 18
25. Epilogue
26. Coming Soon - Roughneck
27. Also by Sosie Frost
28. About the Author