Shifters and Alphas by Lacey Carter Andersen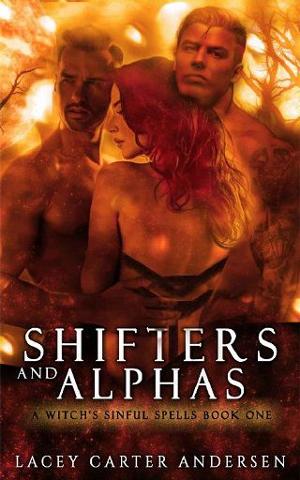 After a hard day's work she needs a few stiff drinks and a few stiff men, at least according to her best friend…
Cassandra works long hours hunting the paranormal creepy crawlers who tear up her city. It's dangerous work, made even more difficult by her three sexy partners (who just happened to be stubborn, alpha-as-heck, shifters). Not that they aren't helpful, it's just hard to focus on blowing the head off a vampire when she's busy checking out their nice… pants.
So when her best friend coaxes her into going to a bar, she doesn't think twice when a witch gives her a little drink, promising her it'll give her just what she needs.
The last thing she expected was to drink a witch's brew and finally have the guts to do something completely out-of-character. And completely naughty. But it might be just what she needed.
File Name:shifters-and-alphas-by-lacey-carter-andersen.epub
Original Title:Shifters and Alphas: A Standalone Reverse Harem (A Witch's Sinful Spells Book 1)
Creator:

Lacey Carter Andersen

Language:en
Identifier:MOBI-ASIN:B07LG2LT6H
Publisher:

Phoenix Press LLC

Date:2019-01-11T00:00:00+00:00
File Size:247.337 KB
Table of Content
1. Title Page
2. Disclaimer
3. Shifters and Alphas (A Witch's Sinful Spells, #1)
4. Author's Note
5. Chapter One
6. Chapter Two
7. Chapter Three
8. Chapter Four
9. Chapter Five
10. Chapter Six
11. Chapter Seven
12. Chapter Eight
13. More by Lacey Carter Andersen
14. About the Author