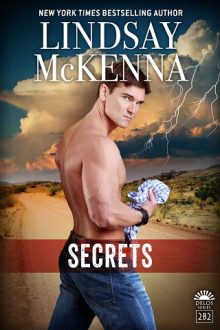 Darkness surrounded him. Could love rescue him?
Mark Reuss' childhood was a living hell. The only bright spot in his life during those dark days was his best friend, Mattie Lockwood. Her beauty and spirit called out to him, but he didn't want to drag her down into the gloom his life had become. So when he graduated high school, he joined the Marine Corps and left his past—and Mattie—behind.
Or so he thought. Mark never forgot Mattie, or stopped wanting her. Now he's back in town, ready to face his demons and make a life with her. But before he can set his plans in motion, Mark must suddenly disappear once again, but it means keeping secrets from Mattie. Will he once again have to let go of the woman he loves?
Book Details
File Namesecrets-by-lindsay-mckenna.epub
Original TitleSecret
Creator

McKenna, Lindsay

Languageen
Identifier4029079342
Publisher

Blue Turtle Publishing

Date2016-11-21
SubjectMilitary,Romance
File Size361.843 KB
Table of Content
1. Title Page
2. Praise for Lindsay McKenna
3. Also available from Lindsay McKenna
4. Copyright Page
5. Dear Reader
6. Dedication
7. Table of Contents
8. Chapter 1
9. Chapter 2
10. Chapter 3
11. Chapter 4
12. Chapter 5
13. Chapter 6
14. Chapter 7
15. Chapter 8
16. Chapter 9
17. Chapter 10
18. Chapter 11
19. Chapter 12
20. Chapter 13
21. Excerpt from Never Enough
22. The Books of Delos
23. Everything Delos!