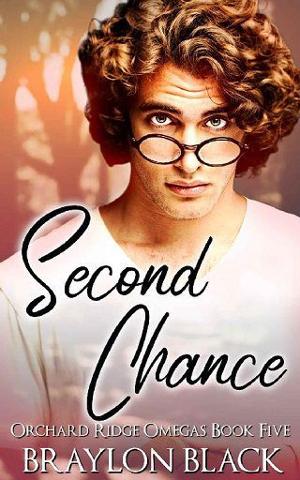 They already learned the hard way that they don't belong together…
Moody omega Elijah Johnson spends all his time alone writing novels under an anonymous pen name. His anxiety disorder prevents him from having much of a social life, or even going outside. He's wary of ever dating again, either, after his one and only romance with alpha Chance Styles ended in disaster years ago. But his blossoming emotional connection with an online friend and beta reader "JBox283" leads him to reconsider. Could sparks be flying over his computer screen?
When Elijah is pressured to do his first public book signing, JBox283 says he'll be there in person. Risk-averse Elijah knows it may be time to put himself out there again, and give this whole "love" thing another try.
Single and still getting over his last bitter breakup, alpha Chance Styles has returned from years of traveling the globe to start a business in Orchard Ridge: The Mother Earth Coffee Shop. He's happy with his life, aside from the fact he still can't seem to get over his ex, Elijah.
As a beta reader for the popular novelist JH Faustbend, Chance is amazed by the easy chemistry and deep connection they share—over email, anyway—and finds himself falling for the author despite knowing little about him. When Chance learns the author is doing his first public book signing, he jumps at the chance to meet him in person, and kickstart a new relationship—one he hopes will finally help him get over his ex.
But when the bitter exes Chance and Elijah discover they've been talking to each other this whole time, they're utterly mortified. An emotional confrontation leads to an impulsive night of passion. Deeming the encounter a terrible mistake, both decide to move on and pretend it never happened—until a pregnancy test comes up positive, and they can no longer avoid each other.
Old wounds still haven't healed, and it's gonna take hard work to move past all the hurt and pain of the past. Can Chance and Elijah learn to forgive each other, and rediscover what made them fall so deeply in love the first time around? Or is history doomed to repeat itself?
Book Details
File Namesecond-chance-by-braylon-black.epub
Original TitleSecond Chance: A Contemporary Non-Shifter Mpreg Romance (Orchard Ridge Omegas Book 5)
Creator

Braylon Black

Languageen
IdentifierMOBI-ASIN:B07S41W7ZT
Date2019-07-18T16:00:00+00:00
File Size268.266 KB
Table of Content
1. Contents
2. Title
3. Copyright
4. Contacts
5. Elijah
6. Chance
7. Elijah
8. Chance
9. Elijah
10. Elijah
11. Chance
12. Elijah
13. Elijah
14. Chance
15. Elijah
16. Chance
17. Elijah
18. Elijah
19. Chance
20. Chance
21. Elijah
22. Elijah
23. Chance
24. Chance
25. Elijah
26. Chance
27. Chance
28. Elijah
29. Chance
30. Elijah
31. Chance
32. Chance
33. Elijah
34. About the Author