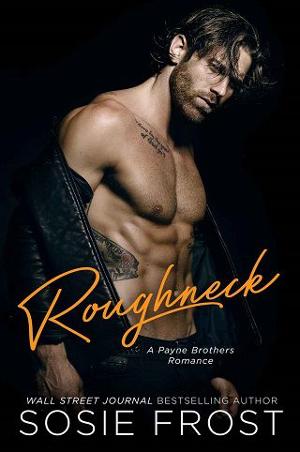 Tidus Payne is as smooth as whiskey, as dangerous as a lit match, and sexier than a midnight mistake.
He's the sort of man who'd drink the devil under the table and then stick around Hell for more fun.
He's rough. He's rude. He's un-redeemable.
And Tidus is the only mechanic within twenty miles.
If I want to get my food truck fixed in time for the annual Beef Brisket Backyard Brawl-B-Que, we've gotta play nice. That means no fighting, no flirting, and no falling for the man who would be my sexiest regret.
He says he's done bad things, wants nothing more than to get me in bed, and promises he'll break my heart.
But Tidus hides a shocking secret that will change everything…
If it doesn't destroy him first.
Wanting him is wrong.
Helping him is worse.
Some men burn through their second chances.
This one set my world on fire.
File Name:roughneck-by-sosie-frost.epub
Original Title:Roughneck: A Payne Brothers Romance
Creator:

Frost, Sosie

Language:en
Identifier:3456714650
Date:2019-04-12
File Size:1018.259 KB
Table of Content
1. Title Page
2. Copyright
3. Dedication
4. About the Author
5. Also by Sosie Frost
6. Contents
7. Chapter 1
8. Chapter 2
9. Chapter 3
10. Chapter 4
11. Chapter 5
12. Chapter 6
13. Chapter 7
14. Chapter 8
15. Chapter 9
16. Chapter 10
17. Chapter 11
18. Chapter 12
19. Chapter 13
20. Chapter 14
21. Chapter 15
22. Chapter 16
23. Chapter 17
24. Chapter 18
25. Chapter 19
26. Epilogue
27. Coming Soon - Romeo
28. Now Available - Babyjacked!
29. Now Available - Boyfrenemy!
30. Now Available- Wargasm!
31. Now Available - Sixty Nine!
32. About the Author
33. Also by Sosie Frost