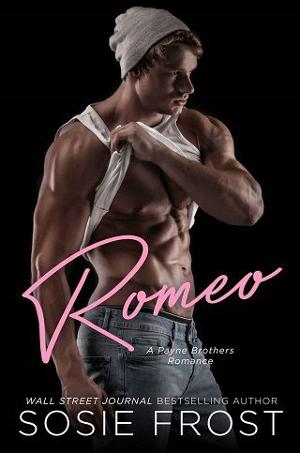 Quint Payne is the sort of troublemaker who makes a girl fall head over heels…
Right into his bed.
Rumor has it he can unclasp a bra with a flash of his dimpled smile, and he keeps a collection of trophy panties big enough to rival a Victoria's Secret. He's all fun, no commitments, and has a bad enough reputation to make even a good girl curious.
Quint might just be the man of my dreams… Well, pinch me. I wanna wake up.
It's bad enough having feelings for a gorgeous player, but keeping a secret crush on the sworn enemy of my family?
That's some terrible, small-town luck.
But when Quint approaches me with a plan to end the feud destroying our two families, it's a perfect opportunity to steel my heart against the sexy bad boy. All I've gotta do is prove to myself that he's no more than a sweet-talking, bed-hopping, skirt-chasing, heart-thumping, core-clenching, mouth-watering Romeo. If only he didn't believe that I'm his destined Juliet.
It was easy enough to fall into love… Here's hoping it's just as easy to fall out of it.
File Name:romeo-by-sosie-frost.epub
Original Title:Romeo: A Payne Brothers Romance
Creator:

Frost, Sosie

Language:en
Identifier:4165137967
Date:2019-10-06
File Size:553.962 KB
Table of Content
1. Title Page
2. Copyright
3. Contents
4. Romeo - Sosie Frost
5. Chapter 1
6. Chapter 2
7. Chapter 3
8. Chapter 4
9. Chapter 5
10. Chapter 6
11. Chapter 7
12. Chapter 8
13. Chapter 9
14. Chapter 10
15. Chapter 11
16. Chapter 12
17. Chapter 13
18. Chapter 14
19. Chapter 15
20. Chapter 16
21. Chapter 17
22. Chapter 18
23. Chapter 19
24. Epilogue
25. Also by Sosie Frost
26. About the Author