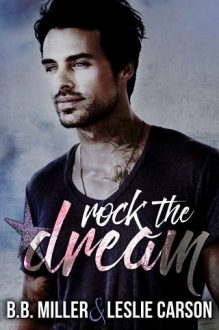 Multi-platinum, award-winning rock musician Kennedy Lane has it all—packed arenas, private jets, and loyal fans. Everything is at his fingertips… until a tragic accident twists his dream into a nightmare. Haunted and lost, he's desperately wanting more, and losing hope that he'll ever find it.
Abigail Walker, Executive Director of an international children's charity, lives for her job. Determined not to repeat past mistakes, she pours her energy into making the lives of the families she works with a little better. But her dedication doesn't keep her warm at night, a fact that she's beginning to regret.
When a little boy's hope to meet his idol brings them together, Kennedy is shocked to find that determined Abigail may be the one to help him make his dreams come true—if he's strong enough.
Book Details
File Namerock-the-dream-by-bb-miller-and-leslie-carson.epub
Original TitleRock the Dream: A Stand-Alone Novel in the Redfall Dream Series (Book 1)
Creator

B.B. Miller

Languageen
IdentifierMOBI-ASIN:B01N34V0P3
Publisher

BB Miller and Leslie Carson

Date2017-02-02T00:00:00+00:00
File Size1.908 MB
Table of Content
1. Rock the Dream
2. Table of Contents
3. For Mandy
4. Chapter 1
5. Chapter 2
6. Chapter 3
7. Chapter 4
8. Chapter 5
9. Chapter 6
10. Chapter 7
11. Chapter 8
12. Chapter 9
13. Chapter 10
14. Chapter 11
15. Chapter 12
16. Chapter 13
17. Chapter 14
18. Chapter 15
19. Chapter 16
20. Chapter 17
21. Chapter 18
22. Chapter 19
23. Chapter 20
24. Chapter 21
25. Chapter 22
26. Chapter 23
27. Chapter 24
28. Chapter 25
29. Sneak Peek at Book Two of The Dream Series
30. Acknowledgements
31. About the Authors