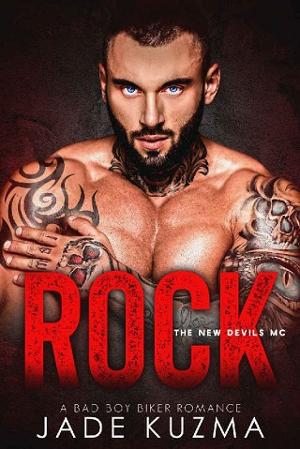 ROMAN
"I never asked for any of this. I just wanted to get away and live my life in peace.
Of course, I could never turn my back on the MC completely. Not with the money involved for this gig.
Nobody told me it was gonna involve her. Mafia royalty.
Damn.
It's been too long. I shouldn't… But I can't help myself.
I have to make her mine…"
Welcome back to Ivory…
Roman just got out of jail. He's not looking for trouble. But when you're a Devil, trouble has a way of finding you.
It's supposed to be a simple job for Roman. Serve as Mia's personal bodyguard, protect her, and make sure nobody messes with her. It turns out Mia's got more troubles than the target on her back. They find some solace in one another as they spend time together. The tattooed ex-con turns out to be just what Mia needs.
But they were never meant to get involved. Now they're in so deep that they might not be able to get out…
Book Details
File Namerock-by-jade-kuzma.epub
Original TitleRock: A Bad Boy Biker Romance (New Devils MC Book 1)
Creator

Jade Kuzma

Languageen
IdentifierMOBI-ASIN:B07FCFWXC2
Date2018-07-07T16:00:00+00:00
File Size254.160 KB
Table of Content
1. Chapter 1
2. Chapter 2
3. Chapter 3
4. Chapter 4
5. Chapter 5
6. Chapter 6
7. Chapter 7
8. Chapter 8
9. Chapter 9
10. Chapter 10
11. Chapter 11
12. Chapter 12
13. Chapter 13
14. Chapter 14
15. Chapter 15
16. Chapter 16
17. Chapter 17
18. Chapter 18
19. Chapter 19
20. Chapter 20
21. Chapter 21
22. Chapter 22
23. Chapter 23
24. Chapter 24
25. Chapter 25
26. Chapter 26
27. Chapter 27
28. Chapter 28
29. Chapter 29
30. Chapter 30
31. Epilogue 1
32. Epilogue 2
33. Thank you!
34. The Black Reapers