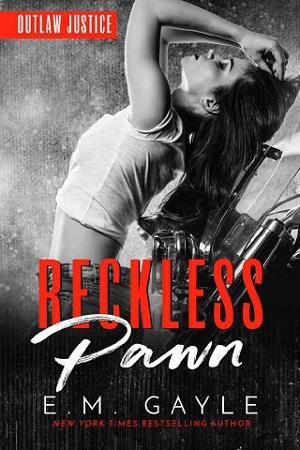 Freedom is never free…
But what price am I willing to pay?
What should have been a one-night stand turned into an obsession I can't let go.
Houston is in my memories and my dreams. The one place he is NOT is in my life.
Apparently, I now belong to the Sins of Wrath motorcycle club and the VP has become the latest in a ever growing line of men who want to make me heel.
But I don't heel, sit or BEG.
To survive, I need to break free. But first, I have to get my heart back…
Reckless Pawn is book two in the Outlaw Justice Trilogy. Savage Protector is book one (available now) and Houston and Izzy's story concludes in Ruthless Redemption.
Book Details
File Namereckless-pawn-by-e-m-gayle.epub
Original TitleReckless Pawn (Outlaw Justice Trilogy Book 2)
Creator

E.M. Gayle

Languageen
IdentifierMOBI-ASIN:B07R44F79H
Publisher

Gypsy Ink Books

Date2019-05-21T22:00:00+00:00
File Size324.422 KB
Table of Content
1. Title Page
2. Copyright
3. Contents
4. About Reckless Pawn
5. Chapter 1
6. Chapter 2
7. Chapter 3
8. Chapter 4
9. Chapter 5
10. Chapter 6
11. Chapter 7
12. Chapter 8
13. Chapter 9
14. Chapter 10
15. Chapter 11
16. Chapter 12
17. Chapter 13
18. Chapter 14
19. Chapter 15
20. Chapter 16
21. Chapter 17
22. Chapter 18
23. Chapter 19
24. Chapter 20
25. Chapter 21
26. The Favor Of A Review
27. Also by E.M. Gayle
28. Books Writing As Eliza Gayle