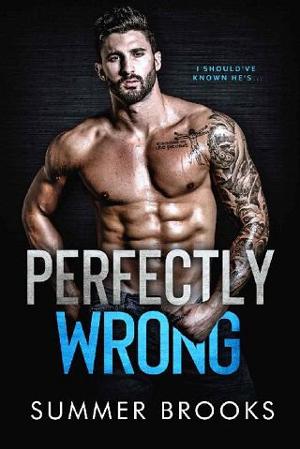 Yes, I've broken the girl code.
I slept with my best friend's ex.
He's a football star. Rich as sin.
And my sworn enemy from high school.
Bryant is perfectly wrong for me.
He has a big mouth.
And a bigger… you know what!
But we're college roommates now.
Oh, the hatred and these rough nights.
He spins my world around.
And I let him take control of me.
On one condition.
We remain each other's secret.
No one is supposed to find out about us.
We have too much on the line.
His career.
My friendship.
Our future.
But every lie has a way of coming out.
So, who's gonna end up paying the price for this one?
Book Details
File Nameperfectly-wrong-by-summer-brooks.epub
Original TitlePerfectly Wrong
Creator

Summer Brooks

Languageen
IdentifierMOBI-ASIN:B07T1GC38B
Date2019-06-12T16:00:00+00:00
File Size388.128 KB
Table of Content
1. Copyright
2. Title Page
3. Contents
4. Blurb
5. 1. Mia
6. 2. Bryant
7. 3. Mia
8. 4. Bryant
9. 5. Mia
10. 6. Bryant
11. 7. Mia
12. 8. Bryant
13. 9. Mia
14. 10. Bryant
15. 11. Mia
16. 12. Bryant
17. 13. Mia
18. 14. Bryant
19. 15. Mia
20. 16. Bryant
21. 17. Mia
22. 18. Bryant
23. 19. Mia
24. 20. Bryant
25. 21. Mia
26. 22. Bryant
27. 23. Mia
28. 24. Bryant
29. Epilogue: Mia
30. PREQUEL to 'Perfectly Wrong'
31. 5-Book Box Set
32. Also by Summer Brooks