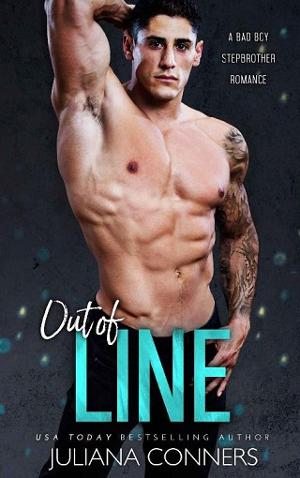 She's about to be off limits. But nothing stops me from taking what I want.
Taylor and I go way back. She and my kid sister Chelsea are best friends.
We hooked up before I graduated and left to play ball.
I gave her her very first O.
Now I'm back in town, because my dad is about to marry Taylor's mom.
I convince her we need to have one more roll in the hay.
For old time's sake. Before we become step siblings.
I didn't realize how good the forbidden fruit would taste, though.
Now I know I can't get enough of it.
F*ck the rules. I'll eat until I have my full.
But what if my heart still craves more?
Book Details
File Nameout-of-line-by-juliana-conners.epub
Original TitleOut of Line: A Bad Boy Stepbrother Romance
Creator

Juliana Conners

Languageen
IdentifierMOBI-ASIN:B07CDR5MZQ
Date2018-04-01T16:00:00+00:00
File Size1.636 MB
Table of Content
1. Chapter 1
2. Chapter 2
3. Chapter 3
4. Chapter 4
5. Chapter 5
6. Chapter 6
7. Chapter 7
8. Chapter 8
9. Chapter 9
10. Chapter 10
11. Chapter 11
12. Chapter 12
13. Chapter 13
14. Chapter 14
15. Chapter 15
16. Chapter 16
17. Chapter 17
18. Chapter 18
19. Chapter 19
20. Epilogue
21. Out of Bounds – A Bad Boy Sports Romance
22. SEAL's Virgin: A Bad Boy Military Romance
23. Perfect Fit: A Modern Day Dirty Cinderella Fairy Tale with a Fake Royal Marriage Twist
24. Sold to My Professor: A Billionaire and a Virgin Romance
25. Don't Stand So Close: A Brother's Best Friend Romance
26. Bound by the Billionaire: A BDSM Romance
27. Two Billionaires for Christmas: An MFM Menage Romance
28. Snow Job: Stranded with a Possessive Billionaire
29. Don't Come Around Here: A Bad Boy Next Door Romance
30. Sold at the Ski Resort: A Virgin & Billionaire Romance
31. Three Billionaires for Valentine's: An MFMM Menage