One Summer Day by Heather B. Moore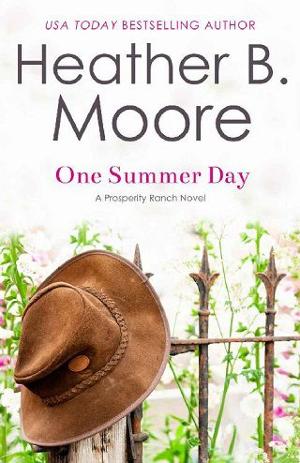 She's desperate to start over. He represents the past she wants to leave behind. But falling in love is never about logic.
Macie's divorce has left her at rock-bottom, and she uproots everything and takes her young daughter to visit Prosperity Ranch for the summer. Every kid deserves to know her grandparents, right? Macie hopes for some healing time, even if she is staying at her ex in-laws ranch. What she isn't expecting is her ex-husband's brother, Holt Prosper, to fit every ideal she's ever hoped for in a man.
File Name:one-summer-day-by-heather-b-moore.epub
Original Title:One Summer Day (Prosperity Ranch Book 1)
Creator:

Heather B. Moore

Language:en
Identifier:MOBI-ASIN:B07YXDDX3F
Publisher:

Mirror Press

Date:2020-01-27T16:00:00+00:00
Subject:romance,A Prosperity Ranch Novel,clean and wholesome
File Size:423.747 KB
Table of Content
1. Table of Contents
2. Title Page
3. One Summer Day
4. Chapter One
5. Chapter Two
6. Chapter Three
7. Chapter Four
8. Chapter Five
9. Chapter Six
10. Chapter Seven
11. Chapter Eight
12. Chapter Nine
13. Chapter Ten
14. Chapter Eleven
15. Chapter Twelve
16. Chapter Thirteen
17. Chapter Fourteen
18. Chapter Fifteen
19. Chapter Sixteen
20. Chapter Seventeen
21. Chapter Eighteen
22. Chapter Nineteen
23. Chapter Twenty
24. Chapter Twenty-one
25. Chapter Twenty-two
26. Chapter Twenty-three
27. About Heather B. Moore