Omega's Rescue by Aiden Bates
no ratings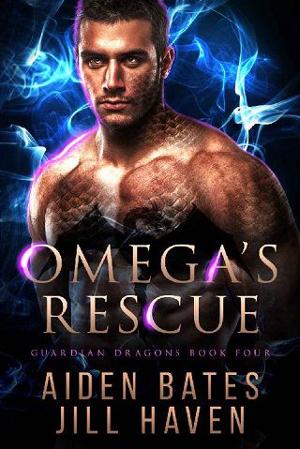 I can't help falling for him. Every time he touches me, he makes me feel alive.
Six months ago, my brother disappeared. Snatched right off the street. And when no one would help me find him – not the police, not the FBI, not the ever-busy CIA – I knew I had to help myself. So I did what I do best: I hacked into every database I could.
My trail led me to Templar Industries.
But mine isn't the only family they've ruined, and tracking down some of their other targets has made me realize that nothing is as simple as it seems. First revelation: dragons are real – and so are omegas, human men who can bond with them. Second revelation: I'm an omega. Third revelation: I'm falling hard for a two thousand year old man who's richer than Croesus and knows how to play my body like a finely-tuned piano. Talk about an age difference, huh?
Things are heating up – between me and my mate, and between the Templars and the dragons. It's come down to this: when our rescue attempt goes wrong, can my mate and I make it out alive?
File Name:omegas-rescue-by-aiden-bates.epub
Original Title:Omega's Rescue (Guardian Dragons Book 4)
Creator:

Aiden Bates

Language:en
Identifier:MOBI-ASIN:B07XDG1NCR
Date:2019-09-16T16:00:00+00:00
File Size:269.148 KB
Table of Content
1. Title Page
2. Contents
3. Free Bonus Chapters!
4. 1. Tanner
5. 2. Morgan
6. 3. Tanner
7. 4. Morgan
8. 5. Tanner
9. 6. Morgan
10. 7. Tanner
11. 8. Morgan
12. 9. Tanner
13. 10. Morgan
14. 11. Tanner
15. 12. Morgan
16. 13. Tanner
17. 14. Morgan
18. 15. Tanner
19. 16. Morgan
20. 17. Tanner
21. 18. Morgan
22. 19. Tanner
23. 20. Morgan
24. 21. Tanner
25. 22. Morgan
26. 23. Tanner
27. 24. Tanner
28. 25. Morgan
29. 26. Tanner
30. 27. Morgan
31. 28. Tanner
32. 29. Morgan
33. 30. Morgan
34. 31. Tanner
35. Free Bonus Chapters!
36. Omega's Rescue