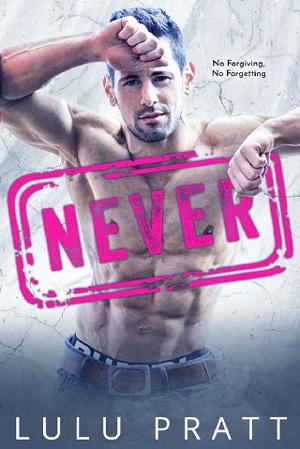 I signed on to give this baby a second chance for a mother. I never counted on falling for my ex
I broke up with my high school sweetheart when I went away to college.
I never expected him to knock up my sister.
It was easy to tell myself it wasn't my fault. That they didn't exist.
Until the day my sister died, with a clause in her will begging me to be a mother to their baby.
How could I deny the child?
Except that means seeing and being with Ethan every day.
I watch in wonder as he deals with his little girl, he's the most loving, caring father.
Soon, my body fills with desire whenever he walks into the room.
I try to ignore his crazy sexy body and even sexier smile, but every day it gets harder.
Now he says he wants me. He's always wanted me.
And he wants us to be a family.
Book Details
File Namenever-by-lulu-pratt.epub
Original TitleNever
Creator

Lulu Pratt

Languageen
IdentifierMOBI-ASIN:B077CLZH7C
Publisher

Lulu Pratt

Date2017-11-10T16:00:00+00:00
File Size751.155 KB
Table of Content
1. Table of Contents
2. Copyright
3. Author's Note
4. Never
5. Chapter One
6. Chapter Two
7. Chapter Three
8. Chapter Four
9. Chapter Five
10. Chapter Six
11. Chapter Seven
12. Chapter Eight
13. Chapter Nine
14. Chapter Ten
15. Chapter Eleven
16. Chapter Twelve
17. Chapter Thirteen
18. Chapter Fourteen
19. Chapter Fifteen
20. Chapter Sixteen
21. Chapter Seventeen
22. Chapter Eighteen
23. Chapter Nineteen
24. Chapter Twenty
25. Chapter Twenty-One
26. Chapter Twenty-Two
27. Chapter Twenty-Three
28. Chapter Twenty-Four
29. Chapter Twenty-Five
30. Chapter Twenty-Six
31. Chapter Twenty-Seven
32. Chapter Twenty-Eight
33. Chapter Twenty-Nine
34. Chapter Thirty
35. Chapter Thirty-One
36. Chapter Thirty-Two
37. Chapter Thirty-Three
38. Chapter Thirty-Four
39. Chapter Thirty-Five
40. Chapter Thirty-Six
41. Chapter Thirty-Seven
42. Chapter Thirty-Eight
43. Chapter Thirty-Nine
44. Epilogue
45. Going Down
46. Making His Baby
47. Revenge F*ck
48. About the Author
49. Relentless Pursuit (Preview)