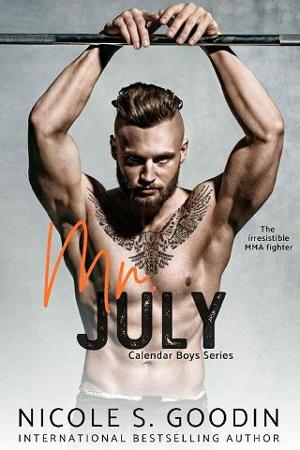 Hudson Scott.
Nicknamed 'The Horror'.
Champion MMA fighter.
… And caught up in an off-limits woman.
Ramsey Ashton.
Queasy around blood.
Pink haired beauty.
… And crushing on her brother's best friend.
Hudson's head has always been firmly inside the cage, until he sets eyes on the woman he's sworn not to touch.
Ramsey has never been interested in the fight scene, but when she meets Hudson, she finds herself inexplicably drawn into his world.
Hudson wants what he can't have.
Ramsey wants to protect her heart.
With everything up against them, will this be one fight that Hudson isn't strong enough to win?
Book Details
File Namemr-july-by-nicole-s-goodin.epub
Original TitleMr. July: An MMA Sports Romance (Calendar Boys Book 7)
Creator

Nicole S. Goodin

Languageen
IdentifierMOBI-ASIN:B07RT7J3NZ
Date2019-07-09T16:00:00+00:00
File Size218.189 KB