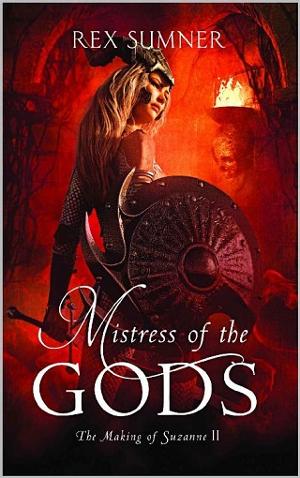 The king's anger and jealousy at Susan's success in running the kingdom caused her to flee. She hides her trail and makes for the hills, where she will study healing lore, banned by the church. This choice brings her to the notice of the Ancient Gods, who recruit her as a Shelagh na Gig, an ancient guardian of the goddess. Here she learns ancient lore, the Right Hand Path.
The king marches north to face the invader, and realises he faces a numerically superior foe, while his own army is riven with incompetent gentry and treacherous Churchmen, who do not want the king in power. His own professional regiments are upset at Susan's disappearance, as is the Archbishop.
His daughter is growing in competence, and demanding her own squad, while noblemen are pushing for advancement. He faces an uncomfortable and unpopular decision, but is helped by the arrival of a new type of cavalry from the south – lancers. Hard drinking, hard fighting womanisers. And the general sent his daughter, the princess, off to be their liaison…
Immersing himself in battle, seeking to forget his love, Susan, the king finds his time is past. Betrayal is in the air, but the new style of warfare will take time to appreciate. The princess needs no time, and finds you don't need to go to war to win at politics.
Historical fantasy, with a wealth of accuracy in the detail of crops and a 20,000 year old religion brought to life. Gritty, realistic, from a violent time. Figures from history may be woven into the story.
Book Details
File Namemistress-of-the-gods-by-rex-sumner.epub
Original TitleMistress of the Gods (The Making of Suzanne Book 2)
Creator

Rex Sumner

Languageen
IdentifierMOBI-ASIN:B07B4T7XX5
Publisher

MyVoice Publishing

Date2018-03-11T16:00:00+00:00
SubjectHistorical Fantasy
File Size567.224 KB
Table of Content
1. Dedication III
2. Acknowledgements V
3. Clarification VII
4. Harrhein VIII
5. Dramatis Personae XI
6. The Black Dragon 1
7. The Marshal 23
8. Freedom 38
9. Lancers 57
10. Recovery 70
11. Battle 84
12. Dancing 99
13. Fleeing Foe 119
14. Dancing with Gods 124
15. Pursuit 132
16. Healing 145
17. Knives 154
18. The Tuatha da Danann 166
19. Stuarts 179
20. The Black Dragon 192
21. The Power of a Promise 205
22. Overlooking 215
23. Welcome Home 234
24. Fiotr 251
25. Revolt 265
26. Aether 283
27. Rebuilding 293
28. Trapped 304
29. Mistress of the Kingdom 314
30. Historical Notes 324
31. About the Author 328