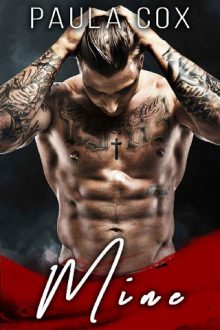 I had every reason not to trust him
I should've known better than to let a brute like him into my life.
He turned my life upside down in the worst way possible: spread me open and took what he wanted—what I needed.
He wasn't supposed to stay.
I wasn't supposed to scream for more.
But when he holds me down and grinds his hard body into mine.
Makes me his possession and obsession.
Makes me forget who I am and what he is.
I can't tell if this is all a dream come true.
Or if I'm trapped in living nightmare.
But as long as he's by my side, I don't ever want to wake up.
Book Details
File Namemine-by-paula-cox.epub
Original TitleMine: a Dark Mafia Romance
Creator

Paula Cox

Languageen
IdentifierMOBI-ASIN:B01MR070JQ
Date2016-12-25T16:00:00+00:00
File Size273.576 KB
Table of Content
1. Chapter 1
2. Chapter 2
3. Chapter 3
4. Chapter 4
5. Chapter 5
6. Chapter 6
7. Chapter 7
8. Chapter 8
9. Chapter 9
10. Chapter 10
11. Chapter 11
12. Chapter 12
13. Chapter 13
14. Chapter 14
15. Chapter 15
16. Chapter 16
17. Chapter 17
18. Chapter 18
19. Chapter 19
20. Chapter 20
21. Chapter 21
22. Chapter 22
23. Chapter 23
24. Chapter 24
25. Chapter 25
26. Chapter 26
27. Chapter 27
28. Chapter 28
29. Chapter 29
30. Chapter 30
31. Chapter 31
32. Chapter 32
33. Chapter 33
34. Chapter 34
35. Chapter 35
36. Chapter 36