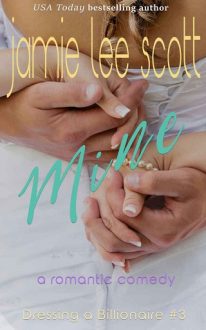 Maisy and Hugo worked their way into your hearts in HELLO and STYLE, now see the rest of the story in MINE.
Maisy's reality crashes down on her fantasy as she and Hugo return from their shopping spree in Vegas.
Ready to move on, and maybe ready to fall in love again, Maisy's sure that coming home will only make her and Hugo closer. The only problem: The love of Hugo's life is sitting on the porch of his home when they get back from Vegas.
Maisy's tired of dreaming about a fantasy life she can't have. Only Hugo can't seem to let her go, and Maisy's not willing to share.
"I want him to be MINE!"
Book Details
File Namemine-by-jamie-lee-scott.epub
Original TitleMine (Dressing a Billionaire Book 3): A Romantic Comedy
Creator

Jamie Lee Scott

Languageen
IdentifierMOBI-ASIN:B01IA7RLU6
Publisher

LBB Company

Date2016-10-03T05:00:00+00:00
File Size187.600 KB
Table of Content
1. Copyright
2. Dedication
3. Chapter 1
4. Chapter 2
5. Chapter 3
6. Chapter 4
7. Chapter 5
8. Chapter 6
9. Chapter 7
10. Chapter 8
11. Chapter 9
12. Chapter 10
13. Chapter 11
14. Chapter 12
15. Odd Man Out by Bonnie Paulson
16. Chapter 1