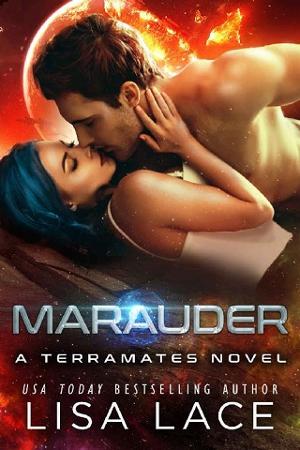 He bought me for his king.
Now he's claimed me for himself.
I didn't believe the rumors about TerraMates. People say the company has started taking women off the streets and selling them as sex toys for aliens.
I should have listened.
I'm a prisoner, and my captor is supposed to deliver me to his leader.
But after tasting my body and mastering my soul, he has decided he wants me for himself. He doesn't care what the king wants.
Do I want to go back to Earth, or keep begging for more?
Book Details
File Namemarauder-by-lisa-lace.epub
Original TitleMarauder: A Science Fiction Alien Mail-Order Bride Romance (TerraMates Book 16)
Creator

Lisa Lace

Languageen
IdentifierMOBI-ASIN:B07F7GRR6R
Date2018-08-08T16:00:00+00:00
File Size233.352 KB
Table of Content
1. Title Page
2. Contents
3. 1. Emily
4. 2. Orien
5. 3. Emily
6. 4. Orien
7. 5. Emily
8. 6. Orien
9. 7. Emily
10. 8. Orien
11. 9. Emily
12. 10. Orien
13. 11. Emily
14. 12. Orien
15. 13. Emily
16. 14. Orien
17. 15. Emily
18. 16. Orien
19. 17. Emily
20. 18. Orien
21. 19. Emily
22. 20. Orien
23. 21. Emily
24. 22. Orien
25. 23. Emily
26. Newsletter
27. Also by Lisa Lace
28. Copyright