Manners & Mannerisms by Tanya Chris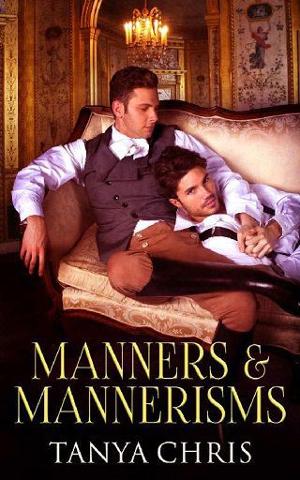 Everyone in Highley eagerly anticipates the arrival of Reginald Abernathy, the new master of Albon Manor. Everyone, that is, except Lord William Bascomb. William knows he'll be expected to woo Reginald's sister, and he can't summon the interest for it. But when the Abernathys arrive at last, William discovers he's interested after all—in Reginald. Reginald is the most handsome, most dashing, most intriguing man he's ever known. Better yet, he seems to share William's preference for men.
The addition of the Abernathys to Highley suits everyone. William's sister adores Reginald's, Aunt Harriet foresees many happy matches between the two families, William's sister-in-law is pleased at the prospect of unloading her penniless relatives at last, and all the eligible ladies in Highley want the man who only has eyes for William.
Against a backdrop of elegant balls and frolicking picnics, William and Reginald enjoy furtive moments of ecstasy until a scandal erupts, forcing William to choose between Reginald and the only life he's ever known.
File Name:manners-mannerisms-by-tanya-chris.epub
Original Title:Manners & Mannerisms
Creator:

Tanya Chris

Language:en
Identifier:MOBI-ASIN:B07YCS1561
Publisher:

Tanya Chris Publishing

Date:2019-11-06T16:00:00+00:00
File Size:599.076 KB
Table of Content
1. Chapter 1
2. Chapter 2
3. Chapter 3
4. Chapter 4
5. Chapter 5
6. Chapter 6
7. Chapter 7
8. Chapter 8
9. Chapter 9
10. Chapter 10
11. Chapter 11
12. Chapter 12
13. Chapter 13
14. Chapter 14
15. Chapter 15
16. Chapter 16
17. Chapter 17
18. Chapter 18
19. Chapter 19
20. Chapter 20
21. Chapter 21
22. Chapter 22
23. Chapter 23
24. Thank You!