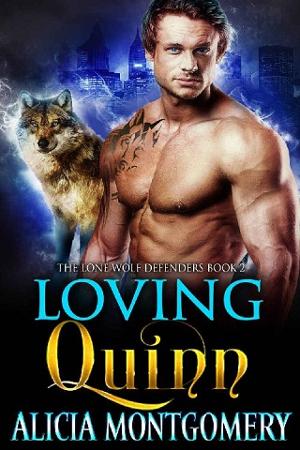 Happy-go-lucky wolf shifter and hacker Quinn never saw the point of committing to just one person for the rest of his life. After all, with his devilish good looks and charisma, he could have any woman he wants. Any woman, except the sassy almost-witch Selena, who seems resistant to his charms. While he denies his attraction to the curvy redhead, his own animal craves her attention, and Quinn finds it difficult to stay away.
Having no magical talent meant Selena was at the bottom rung of her coven hierarchy. Mocked by her own family and pitied by the rest of her coven, she builds her own life away from them. When an offer comes that could finally give her the respect and standing she's always wanted, it should have been easy to say yes. But a certain sexy and handsome Lone Wolf shifter has sent her into a tizzy, and she risks the chance of being welcomed back into the fold by giving into her own desires.
When Quinn's past comes back to haunt him, it puts Selena in the line of fire and he'll do anything to protect her. However, Selena has problems of her own and she finds herself having to choose between the life she's always dreamed of or bet her heart on commitment-phobic Quinn. Staying together only means danger and pain, but can they really resist the attraction between them, which could end up imploding both their lives?
Book Details
File Nameloving-quinn-by-alicia-montgomery.epub
Original TitleLoving Quinn: The Lone Wolf Defenders Book 2
Creator

Alicia Montgomery

Languageen
IdentifierMOBI-ASIN:B074N5LPXQ
Date2017-08-15T16:00:00+00:00
File Size254.492 KB
Table of Content
1. Title Page
2. Copyright
3. Dedication
4. Matter
5. Note
6. Chapter One
7. Chapter Two
8. Chapter Three
9. Chapter Four
10. Chapter Five
11. Chapter Six
12. Chapter Seven
13. Chapter Eight
14. Chapter Nine
15. Chapter Ten
16. Chapter Eleven
17. Chapter Twelve
18. Chapter Thirteen
19. Chapter Fourteen
20. Chapter Fifteen
21. Chapter Sixteen
22. Chapter Seventeen
23. Chapter Eighteen
24. Chapter Nineteen
25. Chapter Twenty
26. Chapter Twenty-One
27. Chapter Twenty-Two
28. Chapter Twenty-Three
29. Chapter Twenty-Four
30. Chapter Twenty-Five
31. Chapter Twenty-Six
32. Epilogue
33. Extended Epilogue
34. Author's Notes
35. Other Books by Alicia Montgomery