Loved by a SEAL by Makenna Jameison
no ratings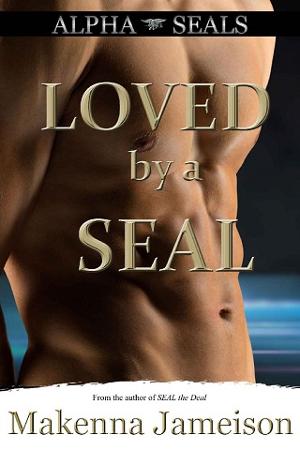 Physical Therapist Sarah Foster shouldn't get into another argument with her brother's SEAL team CO. She just shouldn't. But when the always cool, calm, and aloof Commander Ryan Mitchell is in the room, she just can't help herself. His disciplined, precise ways from years in the military are the exact opposite of her fun-loving, carefree lifestyle. And so what if his broad shoulders and jaw carved from granite make her want to melt right into a puddle at his feet? He's married to his career and wouldn't glance a woman's way if she was skinny-dipping right in front of him. Not that she's tried that.
Alpha SEALs Commander Ryan Mitchell has always been set in his ways. He's given his life to the Navy, and one free-spirited woman with long, honeyed hair and curves to make a grown man weep can't tempt him to stray from his focus. No matter how much he'd love to taste the forbidden fruit.
But when Sarah's brother Patrick "Ice" Foster is injured on a mission, Sarah has no one to turn to. Patrick's girlfriend has the entire SEAL team's support—but Sarah is hurting, too. And Commander Mitchell is letting the guilt eat him alive for letting his men fall into harm's way.
File Name:loved-by-a-seal-by-makenna-jameison.epub
Original Title:Loved by a SEAL (Alpha SEALs Book 7)
Creator:

Makenna Jameison

Language:en
Identifier:MOBI-ASIN:B06XNPGRLZ
Date:2017-05-22T22:00:00+00:00
File Size:217.805 KB
Table of Content
1. Chapter 1
2. Chapter 2
3. Chapter 3
4. Chapter 4
5. Chapter 5
6. Chapter 6
7. Chapter 7
8. Chapter 8
9. Chapter 9
10. Chapter 10
11. Chapter 11
12. Chapter 12
13. Chapter 13
14. Chapter 14
15. Epilogue
16. Thank you for reading Loved by a SEAL!
17. Alpha SEALs Series List
18. About the Author
19. Exclusive Excerpt from SEAL THE DEAL