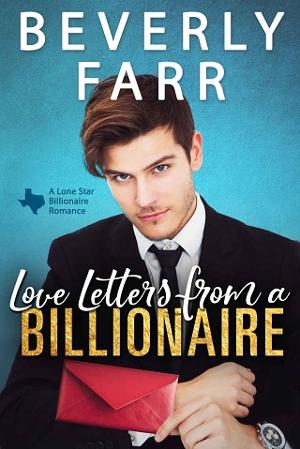 The billionaire and the maid.
I never thought that the first time I saw Vidar Nilsson, recluse multi-billionaire, owner of half a dozen IT companies and creator of the Nils Operating System, that he would be in his underwear, but that's what happened.
You see, I work for Mr. Nilsson. I'm the woman who cleans his penthouse apartment, but I had never met him face-to-face. Until today.
Book Details
File Namelove-letters-from-a-billionaire-by-beverly-farr.epub
Original TitleLove Letters from a Billionaire (Lone Star Billionaires, #1)
Creator

Farr, Beverly

Languageen
Identifier3545666075
Publisher

Beverly Farr

Date2018-09-11
Subjectclean billionaire romance,clean and wholesome romance,contemporary romance,second chances
File Size210.345 KB
Table of Content
1. Title Page
2. Copyright Page
3. Love Letters from a Billionaire (Lone Star Billionaires, #1)
4. CHAPTER ONE
5. CHAPTER TWO
6. CHAPTER THREE
7. CHAPTER FOUR
8. CHAPTER FIVE
9. CHAPTER SIX
10. CHAPTER SEVEN
11. CHAPTER EIGHT
12. CHAPTER NINE
13. CHAPTER TEN
14. CHAPTER ELEVEN
15. CHAPTER TWELVE
16. CHAPTER THIRTEEN
17. CHAPTER FOURTEEN
18. EPILOGUE
19. AUTHOR'S NOTE