Like Breathing by Tia Fielding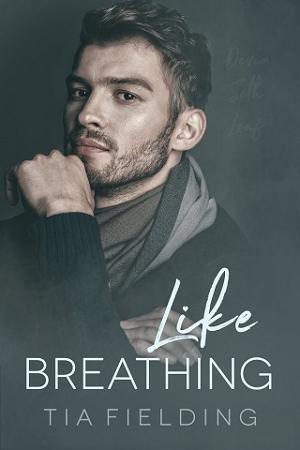 A love as easy as breathing.
Life started out rocky for Devin Rice, but it's turned out pretty well. He has adoptive parents and a brother who love him, and he works as a coder for his dad's video game company. Romance is scarce, but a chance encounter leads to more than he ever expected.
While dropping off an assignment for his sick brother, Dev meets his mentor. Art history professor Seth Kent is brilliant and gorgeous, just what Dev has been looking for. Except that he's in a long-term committed relationship.
Seth's partner, Leaf, is older and sees the world differently due to his unusual upbringing. To him, the clear attraction between Seth and Dev isn't a problem, it's an unexpected gift. After all, Leaf is often on the road, going wherever rescue dogs need rehabilitation.
When Leaf meets Dev, all the missing pieces fall into place, and three men from different worlds and at different points in life fill each other's empty spaces. For them, building a future together is the most natural thing in the world. But their unconventional love causes waves in their careers and family dynamics, and each man has his own doubts and fears to overcome.
File Name:like-breathing-by-tia-fielding.epub
Original Title:Like Breathing
Creator:

Tia Fielding

Language:en-US
Identifier:ISBN:978-1-64080-588-0
Publisher:

Dreamspinner Press

Date:2018-07-10
Subject:gay romance
File Size:448.811 KB
Table of Content
1. Table of Contents
2. Blurb
3. Dedication
4. Chapter One
5. Chapter Two
6. Chapter Three
7. Chapter Four
8. Chapter Five
9. Chapter Six
10. Chapter Seven
11. Chapter Eight
12. Chapter Nine
13. Chapter Ten
14. Chapter Eleven
15. Chapter Twelve
16. Chapter Thirteen
17. Chapter Fourteen
18. Chapter Fifteen
19. Chapter Sixteen
20. Chapter Seventeen
21. Chapter Eighteen
22. Epilogue
23. More from Tia Fielding
24. Readers love Tia Fielding
25. About the Author
26. By Tia Fielding
27. Visit Dreamspinner Press
28. Copyright