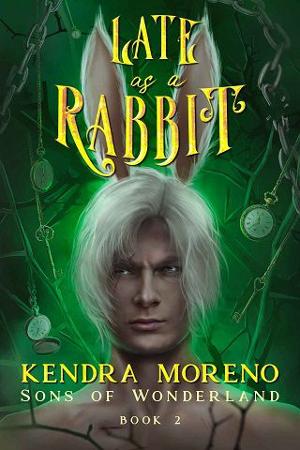 Tick.
Jupiter only ever wanted an adventure, but she never should have gone searching for one. It finds her in the form of a white rabbit with silver eyes.
Tock.
When that same white rabbit turns out to be the White Rabbit from the story books, she can't contain her curiosity. She follows him down the rabbit hole and drops right into Wonderland. But this isn't the Wonderland she hoped for. The world is filled with danger, horrifying creatures, and a prophecy that speaks of her role.
Tick.
Jupiter never thought her adventure would include blood-thirty Bandersnatch, a Vengeful Red Queen, or a sexy White Rabbit. Nor did she ever think she was an important part of saving such nightmares, but a certain Rabbit drew her into this gruesome world, and she's determined to stay by his side.
Tock.
Jupiter has to act quickly. The Red Queen is growing more desperate to stop the prophecy from coming true. Jupiter is only the second . . .
. . . and Wonderland is running out of time.
Tick.
***This is a horror romance retelling of Alice in Wonderland. It includes descritions of gore, violence, and a sexy Rabbit. Please be advised, there is a trigger warning for this novel for the above mentioned violence and gore, as well, as brief mentions of sexual assualt.***
Book Details
File Namelate-as-a-rabbit-by-kendra-moreno.epub
Original TitleLate as a Rabbit (Sons of Wonderland Book 2)
Creator

Kendra Moreno

Languageen
IdentifierMOBI-ASIN:B07MLTL7N4
Date2019-01-10T18:30:00+00:00
File Size451.116 KB
Table of Content
1. Title Page
2. Blurb
3. Copyright
4. Acknowledgments
5. Dedication
6. Contents
7. Trigger Warning
8. Prologue
9. Chapter 1
10. Chapter 2
11. Chapter 3
12. Chapter 4
13. Chapter 5
14. Chapter 6
15. Chapter 7
16. Chapter 8
17. Chapter 9
18. Chapter 10
19. Chapter 11
20. Chapter 12
21. Chapter 13
22. Chapter 14
23. Chapter 15
24. Chapter 16
25. Chapter 17
26. Chapter 18
27. Chapter 19
28. Chapter 20
29. Chapter 21
30. Chapter 22
31. Chapter 23
32. Chapter 24
33. Chapter 25
34. Chapter 26
35. Chapter 27
36. Chapter 28
37. Chapter 29
38. Chapter 30
39. Chapter 31
40. Chapter 32
41. Chapter 33
42. Chapter 34
43. Chapter 35
44. Chapter 36
45. Chapter 37
46. Chapter 38
47. Epilogue
48. About the Author
49. Also by Kendra Moreno
50. 39. Clockwork Butterfly
51. 40. Chapter 2