Lamia's Blood by Lacey Carter Andersen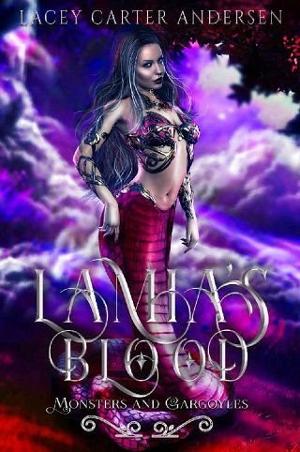 I am the greatest of monsters…
Thousands of years ago I made a mistake. A terrible mistake that cost me everything. My dearest husband. My beloved children.
Even my humanity.
My curse makes me dangerous to all those around me, so I've secluded myself where I can never hurt another person again.
But the Fates have other plans for me that don't include hiding for eternity. Three gargoyles I killed have returned from the dead to seek, not only revenge against me, but also to remove the curse I've inadvertently passed onto them. But if they can't provide me with the blood I need to quench my hunger, all of humanity will be in danger on our path.
And so, we strike a deal: they'll provide me with blood, and I'll help to seek the answers to end this curse.
I'd be lying if I didn't say I was afraid. Of trusting my enemies, yes, but more than anything, of trusting myself. I am a bloodthirsty monster that can shift into a dangerous form, that feeds on blood, that kills. Am I a fool to think I could be anything more?
Book Details
File Namelamias-blood-by-lacey-carter-andersen.epub
Original TitleLamia's Blood: A Reverse Harem Romance (Monsters and Gargoyles Book 5)
Creator

Lacey Carter Andersen

Languageen
IdentifierMOBI-ASIN:B07VMMPHFK
Publisher

Phoenix Press LLC

Date2019-10-17T16:00:00+00:00
File Size277.974 KB
Table of Content
1. Title Page
2. Disclaimer
3. Lamia's Blood (Monsters and Gargoyles, #5)
4. Want more from Lacey Carter Andersen?
5. Author's Note
6. Chapter One
7. Chapter Two
8. Chapter Three
9. Chapter Four
10. Chapter Five
11. Chapter Six
12. Chapter Seven
13. Chapter Eight
14. Chapter Nine
15. Chapter Ten
16. Chapter Eleven
17. Chapter Twelve
18. Chapter Thirteen
19. Chapter Fourteen
20. Chapter Fifteen
21. Chapter Sixteen
22. Chapter Seventeen
23. Chapter Eighteen
24. Chapter Nineteen
25. Chapter Twenty
26. Chapter Twenty-One
27. Chapter Twenty-Two
28. Chapter Twenty-Three
29. Chapter Twenty-Four
30. Chapter Twenty-Five
31. Chapter Twenty-Six
32. Chapter Twenty-Seven
33. Chapter Twenty-Eight
34. Chapter Twenty-Nine
35. Chapter Thirty
36. Chapter Thirty-One
37. Chapter Thirty-Two
38. Chapter Twenty-Three
39. Also By Lacey Carter Andersen
40. About the Author