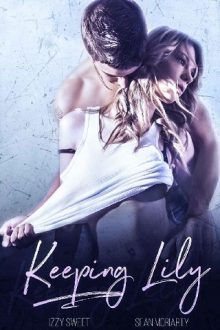 My husband traded me away to save his own life…
And now I belong to the devil.
One night and everything in my life changed. Two words and my world turned dark.
"Take her."
Owing the most ruthless crime lord in Garden City five million dollars, my husband chose to trade me and my children away to save himself.
I was on the cusp of freedom, so close to divorcing that scumbag I was married to.
Now I'm enslaved to a man who is obsessed with me. A man so wicked and beautiful, they call him Lucifer.
So alluring, he makes the angels weep with envy. He's so powerful, I can't stop myself from bending to his will.
He's determined to master me, and he won't rest until I give him all.
He wants my light, and he wants my dark.
He wants my body, and he wants my heart.
But most of all, he wants the one thing I can't give him. The one thing I can't bear to part with…
Book Details
File Namekeeping-lily-by-izzy-sweet-sean-moriarty.epub
Original TitleKeeping Lily: A Dark Romance
Creator

Izzy Sweet

Languageen
IdentifierMOBI-ASIN:B01NBITAGQ
Publisher

Dirty Nothings Publishing

Date2016-12-07T16:00:00+00:00
File Size399.530 KB
Table of Content
1. Epilogue
2. Copyright
3. Chapter 1
4. Chapter 2
5. Chapter 3
6. Chapter 4
7. Chapter 5
8. Chapter 6
9. Chapter 7
10. Chapter 8
11. Chapter 9
12. Chapter 10
13. Chapter 11
14. Chapter 12
15. Chapter 13
16. Chapter 14
17. Chapter 15
18. Chapter 16
19. Chapter 17
20. Chapter 18
21. Chapter 19
22. Chapter 20
23. Chapter 21
24. Chapter 22
25. Chapter 23
26. Chapter 24
27. Playlists
28. Also by Izzy and Sean
29. Banging Reaper
Read Online(Swipe version)