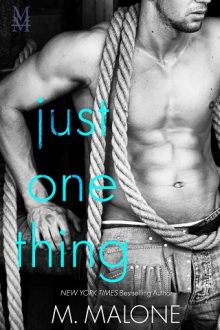 Bennett Alexander is a bonafide genius. Not only does he run his family's farming cooperative but he speaks four languages and is about to apply for his tenth patent. But the one thing he hasn't been able to learn is how not to be awkward. His childhood friend Olivia is the only one who could see past the exterior to the heart beneath.
Katie Mason juggles her home daycare business, her own two kids and her aging mother's affairs back in Barbados. She gets stuff DONE. So when her ex-husband leaves her with a mountain of bills, she doesn't cry. She finds a solution. Get another job.
When Bennett hires her, the task is simple: teach him to act normal so he can win the heart of his first love. But as the lessons continue, the student becomes the teacher and the only thing Katie wants to do is teach Bennett how to love her.
Book Details
File Namejust-one-thing-by-m-malone.epub
Original TitleJust One Thing
Creator

M. Malone

Languageen
IdentifierMOBI-ASIN:B06XWVPH11
Publisher

CrushStar Romance

Date2017-03-26T18:30:00+00:00
File Size336.144 KB
Table of Content
1. Table of Contents
2. Acknowledgments
3. Back Cover
4. Chapter One
5. Chapter Two
6. Chapter Three
7. Chapter Four
8. Chapter Five
9. Chapter Six
10. Chapter Seven
11. Chapter Eight
12. Chapter Nine
13. Chapter Ten
14. Chapter Eleven
15. Chapter Twelve
16. Chapter Thirteen
17. Chapter Fourteen
18. Chapter Fifteen
19. Chapter Sixteen
20. Chapter Seventeen
21. Chapter Eighteen
22. Chapter Nineteen
23. Chapter Twenty
24. Chapter Twenty-One
25. Chapter Twenty-Two
26. Excerpt of Bad King
27. Books by M. Malone
28. About the Author
29. Copyright