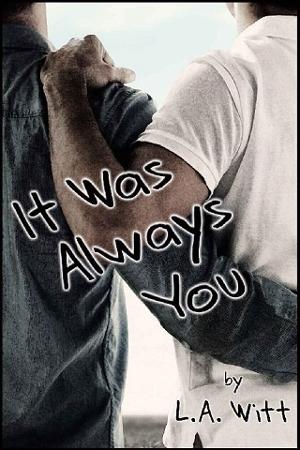 Tyler Schaeffer's whole world has been yanked out from under him. Job? Gone. Marriage? Kaput. With nothing to keep him in Chicago, he's headed home to Seattle to lick his wounds and start over. To his surprise, his high school best friend—the man he ghosted five years ago—swoops in to help him pick up the pieces.
Justin Tucker still stings over Tyler vanishing, but when his old friend needs help, saying no is out of the question. Justin's got a spare room, and he'll do anything he can to help Tyler get back on his feet.
As the guys find their way back to friendship, Justin's old feelings find their way back to the surface. He long ago made peace with Tyler being straight, but that doesn't make twenty years of longing any easier to bear. Now he's wondering if he can really handle having the man of his dreams living under his roof and out of his reach.
Except maybe Tyler isn't as far out of reach as either man thinks…
Book Details
File Nameit-was-always-you-by-l-a-witt.epub
Original TitleIt Was Always You
Creator

L.A. Witt

Languageen
IdentifierMOBI-ASIN:B07BNRJL78
Date2018-03-21T16:00:00+00:00
File Size221.513 KB
Table of Content
1. Chapter 1
2. Chapter 2
3. Chapter 3
4. Chapter 4
5. Chapter 5
6. Chapter 6
7. Chapter 7
8. Chapter 8
9. Chapter 9
10. Chapter 10
11. Chapter 11
12. Chapter 12
13. Chapter 13
14. Chapter 14
15. Chapter 15
16. Chapter 16
17. Chapter 17
18. Chapter 18
19. Chapter 19
20. Chapter 20