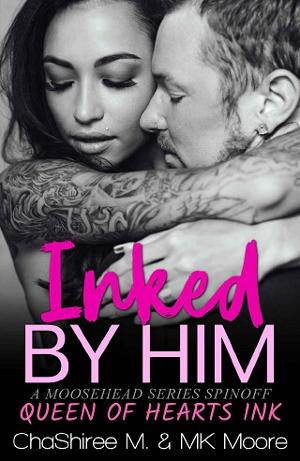 My past has been defining my every move for as long as I can remember, until the one night I let go and found my forever.
In one night I inked her, made her mine and lost her. Who knows, maybe it is for the best. Afterall, the past is still very much, my present.
Then fate steps in and she is once again my everything, along with a new life, I didn't know I wanted.
Now I have to find the message hidden in the ink, to finally follow my heart to my future.
I have always been the rebel, the one who didn't color in side the line and that was fine by me. Until the night I met Him. The man that made me want to be a better woman.
I spent one glorious night with him and it changed my life forever. The problem is; I snuck out without getting a number, last name or anything.
And that will be my one regret.
Until we are thrown back together and secrets are revealed. I found the man my heart belongs too and I love him even more. But he has problems of his own and need a little more help in believing…….
That I want to be INKED by HIM.
Book Details
File Nameinked-by-him-by-chashiree-m.epub
Original TitleInked By Him (Queen of Hearts Ink Book 2)
Creator

MK Moore

Languageen
IdentifierMOBI-ASIN:B07DV5L1Q6
Publisher

ChaShiree M. & MK Moore

Date2018-06-17T03:00:00+00:00
SubjectA Moosehead Series Spinoff,Queen of Hearts Ink
File Size488.952 KB
Table of Content
1. Title Page
2. Copyright
3. Table of Contents
4. Epigraph
5. Prologue
6. Chapter 1
7. Chapter 2
8. Chapter 3
9. Chapter 4
10. Chapter 5
11. Chapter 6
12. Chapter 7
13. Chapter 8
14. Chapter 9
15. Chapter 10
16. Epilogue
17. Also available by ChaShiree M.
18. ChaShiree's Acknowledgements
19. About the Author: ChaShiree
20. MK's Acknowledgements
21. Other books by MK Moore
22. About the Author: MK