Immortal Promise by Kim Loraine
no ratings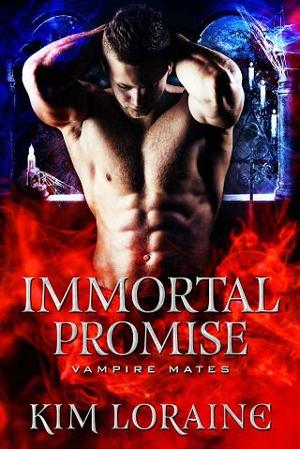 It happened without warning. My vampire heart began beating as her human one stilled and she slipped away. I didn't know her, but everything in me demanded I save her.
She was my mate. I couldn't let her go. So, I turned her rather than let her die, and we've been fighting ever since. They say love-at-first-sight is magic. But what happens when the one you're bound to for eternity wants nothing to do with you?
Claire is nothing like the woman I thought would be my match. Now to convince her she belongs with me before she ends up killing us both. Are you willing to taste immortality?
Come with us and let our vampires glamour you into a world full of dangerous magic, toe-curling heat, and a love to last forever.
File Name:immortal-promise-by-kim-loraine.epub
Original Title:Immortal Promise: A STANDALONE Vampire Romance (Vampire Mates)
Creator:

Kim Loraine

Language:en
Identifier:MOBI-ASIN:B07TSQG688
Date:2019-08-04T18:30:00+00:00
File Size:219.279 KB
Table of Content
1. Title Page
2. Copyright
3. Contents
4. The Midnight Coven
5. IMMORTAL PROMISE
6. Chapter 1
7. Chapter 2
8. Chapter 3
9. Chapter 4
10. Chapter 5
11. Chapter 6
12. Chapter 7
13. Chapter 8
14. Chapter 9
15. Chapter 10
16. Chapter 11
17. Chapter 12
18. Chapter 13
19. Chapter 14
20. Chapter 15
21. Epilogue
22. Also by Kim Loraine
23. About the Author