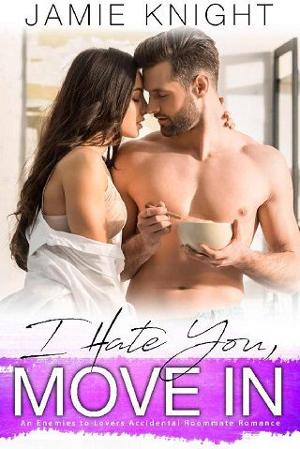 I can't stand him.
But I want him to take my virginity.
It's my freshman year in college and I'm elated to get away from my old-fashioned parents.
However, my upstairs neighbor from back home is now living in the dorm down the hall.
I've hated Seth since I was six, he's boring, annoying and a womanizer,
But also, so hot, with his black hair, deep brown eyes, and fit body.
All we do is fight.
Until I kiss him, just to piss off my parents and then want more.
I try to put my first time behind me and forget the feel of Seth's strong hands on my body.
But then we both lose our dorm rooms and are forced to share a one room apartment.
Can we go from enemies with benefits to roommates without killing each other?
Or are we becoming something even more?
Everyone tells me that it's fate and Seth and I are meant to be.
But how can that be true, when all we do is fight and hook up?
Book Details
File Namei-hate-you-move-in-by-jamie-knight.epub
Original TitleI Hate You, Move In: An Enemies to Lovers Accidental Roommate Romance
Creator

Jamie Knight

Languageen
IdentifierMOBI-ASIN:B07NPXX6X9
Date2019-02-12T00:00:00+00:00
File Size628.858 KB
Table of Content
1. Chapter One
2. Chapter Two
3. Chapter Three
4. Chapter Four
5. Chapter Five
6. Chapter Six
7. Chapter Seven
8. Chapter Eight
9. Chapter Nine
10. Chapter Ten
11. Chapter Eleven
12. Chapter Twelve
13. Chapter Thirteen
14. Chapter Fourteen
15. Chapter Fifteen
16. Chapter Sixteen
17. Chapter Seventeen
18. Chapter Eighteen
19. Chapter Nineteen
20. Chapter Twenty
21. Chapter Twenty-One
22. Chapter Twenty-Two
23. Chapter Twenty-Three
24. Epilogue
25. Sneak Peek of I Hate You, Remember Me
26. Sneak Peak of My Father's Best Friend's Secret Baby
27. Newsletter Signup