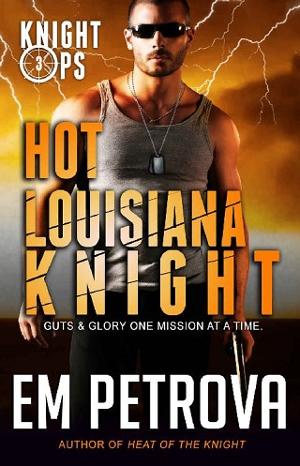 Known as the brainiac of the Knight Ops team, Dylan Knight is okay with the guys making fun of his nerdier tendencies because he can still split a hair with open sights at twenty paces. When the special ops force is dispatched during Mardi Gras to a formalwear boutique suspected of harboring a terrorist cell, Dylan gets the nod to take point on the operation. After he bashes in a closet door and spots two big, frightened eyes and a mass of curly hair, his gut instincts kick in and he refuses to leave the woman behind.
Athena's Creations is a boutique specializing in beautiful gowns and tuxedos, so why the government believes Athena is running some terrorist cell out of her charming store blows her mind. When her door's broken down and she's whisked off to a private safe house with a stern, yet insanely hot special ops guy, she doesn't know what to think or even feel. Except Louisiana nights are known to be hot and sticky, but what's going on between her and Dylan can't possibly be more than an adrenaline rush of circumstances, can it?
Dylan knows Athena's not involved in what the gov is claiming, and he's going to clear her name. And then clear the table so he can lay her out on it and feast on her gorgeous body. But then he learns the threat isn't her—it's DIRECTED at her, and he's got to scramble to keep her safe… and his heart out of the mission.
Book Details
File Namehot-louisiana-knight-by-em-petrova.epub
Original TitleHot Louisiana Knight (Knight Ops Book 3)
Creator

Em Petrova

Languageen
IdentifierMOBI-ASIN:B07CT4B1TH
Date2018-06-11T16:00:00+00:00
File Size259.111 KB