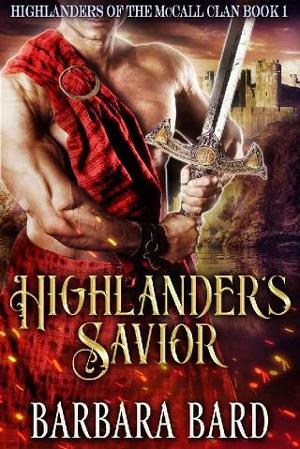 She has to lie about her identity, otherwise, her life is over…
Fate has brought Sarah to the hands of a cruel man, and she must find a way to escape.
Her only chance arises when she joins her betrothed to the front line.
But what she finds in the woods near the battleground, will become the biggest battle for her.
Will she be able to put aside her fear to help one in need?
Drew, brother of the Laird of the McCall clan, cannot stand the injustice of the English.
He won't be blinded by a bonnie Sassenach lass, like his brother Blair did.
Blair has brought a spy in the clan, and Drew must find a way to make him see reason before it's too late.
However, when he finds himself in a difficult position, he has to let himself in the care of a bonnie lass wandering alone in the woods.
Will he be able to put his distrust aside once he learns her identity?
With the constant threat of war, will they find the strength to trust each other?
Book Details
File Namehighlanders-savior-by-barbara-bard.epub
Original TitleHighlander's Savior: A Historical Scottish Highlander Romance Novel (Highlanders of the McCall Clan Book 1)
Creator

Barbara Bard

Languageen
IdentifierMOBI-ASIN:B07SJP1C9Y
Date2019-05-31T16:00:00+00:00
File Size320.555 KB
Table of Content
1. Copyright
2. Be A Part of Barbara Bard's Family
3. Table of Contents
4. Highlander's Savior

Prologue
Chapter 1
Chapter 2
Chapter 3
Chapter 4
Chapter 5
Chapter 6
Chapter 7
Chapter 8
Chapter 9
Chapter 10
Chapter 11
Chapter 12
Chapter 13
Chapter 14
Chapter 15
Chapter 16
Chapter 17
Chapter 18
Chapter 19
Chapter 20
Chapter 21
Chapter 22
Chapter 23
Chapter 24
Chapter 25
Chapter 26

5. Highlander's Captive – Preview (with Enhanced & New Scenes)
6. Highlander's Honor – Preview
7. Also by Barbara Bard