Her Country Star Billionaire Groom by Taylor Hart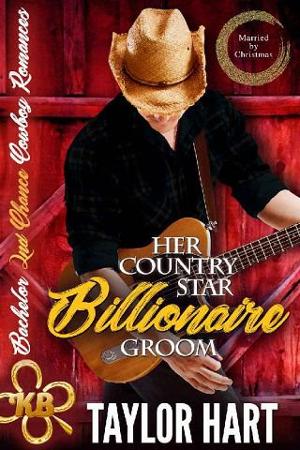 His father's will demands he get Married by Christmas or lose funding for his charity. The woman he's always loved refuses to tell him a secret. Can they get a Second Chance Christmas miracle?
Ex Navy SEAL turned Country Star, JJ Kelly, only wanted one thing in life—to forget. Forget his leg getting blown off, forget his mother dying in a plane crash, and forget – the girl he'd left behind so long ago. But when his father passes away and tells he and his brothers they must be married by Christmas or lose the family inheritance—he can't forget anymore.
Aspen Roades, silver medal Olympic Ice Skating champion, only wants to pay her respects to JJ's father and get back to her wedding. She doesn't want to meet JJ Kelly at a gas station and she really does not want him to follow her onto a Greyhound Bus.
When an old man, claiming to be a Christmas angel, keeps insisting tells he and Aspen to forgive the past and believe in second chances and miracles—he thinks the guy has lost it. Wait—or has JJ lost it? Could there be a second chance with Aspen? Too bad it doesn't matter because she refuses to believe in miracles.
When things get heated, they are left with a choice—believe in second chances … or lose the only love that ever really mattered.
File Name:her-country-star-billionaire-groom-by-taylor-hart.epub
Original Title:Her Country Star Billionaire Groom: Sweet, Christian 'Married by Christmas' (Bachelor Second Chance Cowboy Romances Book 1)
Creator:

Taylor Hart

Language:en
Identifier:MOBI-ASIN:B07XLMWHWK
Publisher:

ArchStone Ink

Date:2019-09-10T16:00:00+00:00
File Size:302.766 KB
Table of Content
1. Title Page
2. Contents
3. Copyright
4. Prologue
5. Chapter 1
6. Chapter 2
7. Chapter 3
8. Chapter 4
9. Chapter 5
10. Chapter 6
11. Chapter 7
12. Chapter 8
13. Chapter 9
14. Chapter 10
15. Chapter 11
16. Chapter 12
17. Chapter 13
18. Chapter 14
19. Chapter 15
20. Chapter 16
21. Chapter 17
22. Chapter 18
23. Chapter 19
24. Chapter 20
25. Chapter 21
26. Chapter 22
27. Chapter 23
28. Epilogue
29. Also by Taylor Hart
30. About the Author