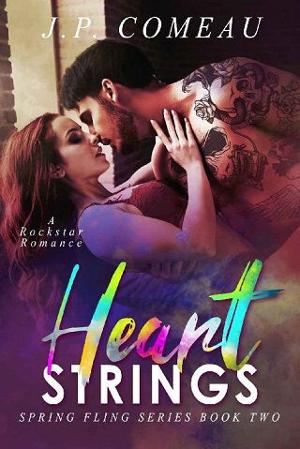 Newsflash – Vaporized performs in The Big Easy.
Is it coincidence, Mardi Gras magic or fate that connects Abigail O'Conner with an infamous Cuban rockstar?
Alejandro Devera, always gets what he wants.
And he wants me.
His ripped, inked body drips with multi-talent and cockiness…
Any girls dream.
But there are two problems.
He already has a girlfriend… a gold digger.
And I'm a conservatory student fated to become the pianist in the local orchestra.
Should I accept his offer to pose as his fake girlfriend to help him brake up with her?
Or draw the line…
Now, I have to make a choice…
Follow my fate or my heart?
Book Details
File Nameheart-strings-by-j-p-comeau.epub
Original TitleHeart Strings: A Rockstar Romance (Spring Fling Series Book 2)
Creator

J. P. Comeau

Languageen
IdentifierMOBI-ASIN:B07QSQW953
Date2019-04-11T16:00:00+00:00
File Size185.260 KB
Table of Content
1. Title Page
2. Copyright
3. Contents
4. Chapter 1
5. Chapter 2
6. Chapter 3
7. Chapter 4
8. Chapter 5
9. Chapter 6
10. Chapter 7
11. Chapter 8
12. Chapter 9
13. Chapter 10
14. Chapter 11
15. Chapter 12
16. Chapter 13
17. Chapter 14
18. Chapter 15