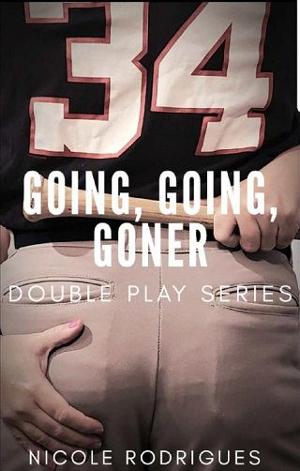 Savannah Gavinwood is all grown up. My buddy's twin sister, that always made eyes at me when we were younger, is now a tempting, fiery woman, too irresistible for her own good. Open bar, mixed with her sinful body in a bridesmaid dress, and we finally cross that line at her brothers wedding.
I have a daughter to worry about though, and it has to end there. Except it doesn't, I can't escape Savannah Gavinwood, even if I tried. I'm the leader of home runs on the field and this little firecracker is making me wanna hit one out of the park with her. "Goner" is coming for you Savvy.
Jackson "Goner" Turner, the boy I secretly loved from afar for years before he broke my heart, is back. Too much tequila and a bitter divorce causes me to give into my desires. Thinking our quickie at my brother Gabriel's wedding will end there, life always has other plans. Cue my asshole ex-husband and the bomb of the century. Everything is not always as it seems. Life-1 Savannah-0.
Book Details
File Namegoing-going-goner-by-nicole-rodrigues.epub
Original TitleGoing, Going, Goner (Double Play Series Book 2)
Creator

Nicole Rodrigues

Languageen
IdentifierMOBI-ASIN:B07MB3G9QD
Date2019-02-21T16:00:00+00:00
File Size234.098 KB
Table of Content
1. Prologue
2. Chapter 1
3. Chapter 2
4. Chapter 3
5. Chapter 4
6. Chapter 5
7. Chapter 6
8. Chapter 7
9. Chapter 8
10. Chapter 9
11. Chapter 10
12. Chapter 11
13. Chapter 12
14. Chapter 13
15. Chapter 14
16. Chapter 15
17. Chapter 16
18. Chapter 17
19. Chapter 18
20. Chapter 19
21. Chapter 20
22. Chapter 21
23. Chapter 22
24. Chapter 23
25. Chapter 24
26. Chapter 25
27. Chapter 26
28. Chapter 27
29. Epilogue