Friends or Lovers by Sara York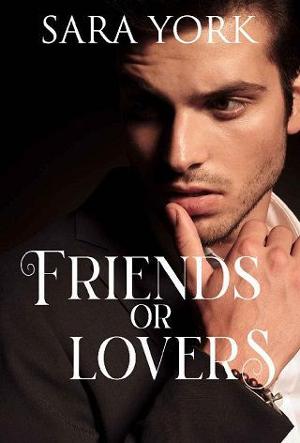 Shane and Nick had their fun on the island, but now it's back to real life where Mark is making Shane's life hell. When Shane moves in with his sexy new boss, Brian, Nick can't help but be jealous.
Guilt twists Brian in knots, leaving him feeling empty and unsatisfied. He knew about Mark's secrets and even shared in them. Now he has the opportunity to make it up to Shane, but will he stop at being a friend or will he try to split Nick and Shane up before they have an opportunity to be lovers.
Brian wants what he's never had before—true love. But who exactly will he find love with? When Brian meets the sexy bar worker, Jamie, his life is turned upside down. Will he blow it, or can he convince Jamie to give him a chance?
Book Details
File Namefriends-or-lovers-by-sara-york.epub
Original TitleFriends or Lovers
Creator

Sara York

Languageen
IdentifierMOBI-ASIN:B07ZTW416D
Date2019-11-06T16:00:00+00:00
File Size239.775 KB
Table of Content
1. Title Page
2. Copyright
3. Contents
4. Chapter 1
5. Chapter 2
6. Chapter 3
7. Chapter 4
8. Chapter 5
9. Chapter 6
10. Chapter 7
11. Chapter 8
12. Chapter 9
13. Chapter 10
14. Chapter 11
15. Chapter 12
16. Chapter 13
17. Chapter 14
18. Chapter 15
19. Chapter 16
20. Chapter 17
21. Chapter 18
22. Chapter 19
23. Chapter 20
24. Chapter 21
25. Chapter 22
26. Chapter 23
27. Chapter 24
28. Chapter 25
29. Chapter 26
30. Chapter 27
31. Chapter 28
32. Chapter 29
33. Chapter 30
34. Chapter 31
35. Chapter 32
36. Chapter 33
37. About the Author
38. Also by Sara York