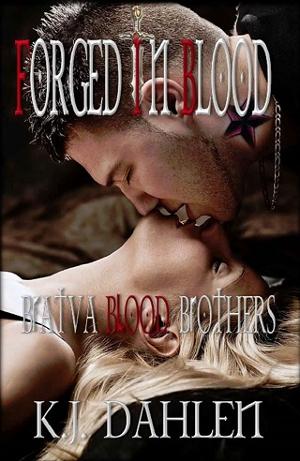 Bratva Blood Brothers
BOOK FOUR
When her grandfather is murdered, Ana Petroff defies her brother and sneaks away from their home in the Catskills to find his killer. She knows she can accomplish it as she'd been raised on the skill of sword play. Heading to New Orleans, her focus is narrowed on revenge and getting justice.
Sazon Demikoff runs one of New Orleans' best and most well-known gyms. After he finds an interloper who has broken into the gym, he cannot believe who it is. He is immediately taken by the small but curvy woman with fire in her eyes. He decides then and there that she would be his. Then he finds he may lose Ana to a serial killer before he can even claim her.
Book Details
File Nameforged-in-blood-by-k-j-dahlen.epub
Original TitleForged In Blood (Bratva Blood Brothers Book 4)
Creator

K.J. Dahlen

Languageen
IdentifierMOBI-ASIN:B07772YBFD
Date2017-11-04T18:30:00+00:00
File Size302.238 KB
Table of Content
1. Forged In Blood
2. Book Four Sazon
3. K.J. Dahlen
4. K.J. Dahlen Copyright © 2017
5. Editor: Leanore Elliott
6. Book & Cover Design:
7. Wicked Muse Productions
8. DEDICATION
9. In remembrance of my brother in law
10. You left us a year ago and none of us are the same
11. The Bratva Blood Brothers
12. Bratva Blood Brothers
13. PROLOGUE
14. May 13th
15. CHAPTER ONE
16. CHAPTER TWO
17. CHAPTER THREE
18. CHAPTER FOUR
19. CHAPTER FIVE
20. CHAPTER SIX
21. CHAPTER SEVEN
22. CHAPTER EIGHT
23. CHAPTER NINE
24. CHAPTER TEN
25. CHAPTER ELEVEN
26. The story continues in:
27. Bravta Blood Brother Series
28. BOOK FIVE