Fool Me Once by Catherine Bybee
no ratings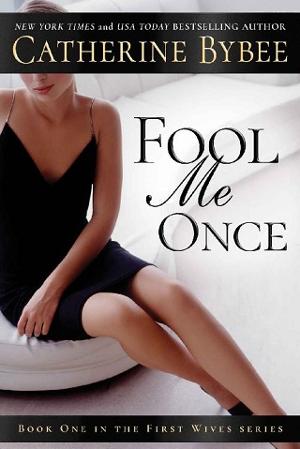 Cynical divorce attorney Lori Cumberland lives by one motto: Love is grand, but divorce is a hundred grand. With one failed marriage under her own personal belt, Lori had fallen hard and early—and it isn't something she plans on repeating. She's content focusing on the temporary marriages of her rich and famous clients. When she joins some of her recent divorcées on a celebratory cruise, her only vow is fun, sun, and new friends. But Lori finds herself tempted by a jury of one.
For Reed Barlow, falling into the world of private investigation was easy. He knows the law and knows how to avoid breaking it—all while doing his job. His rule to live by? No emotion, no involvement…until Lori. His charming smile and cocky attitude distracts Lori and lowers her guard, which is exactly what Reed desires.
But what appears as a one-time-only flirtation may be a plot orchestrated by Reed. As he's taking his investigation to a dangerous level, it's Lori who could end up in jeopardy. Reed has only one shot for Lori to grant him a second chance. But if he comes clean with her, he blows his cover. And that just might cost him the opportunity for an alliance of family…and of love.
File Name:fool-me-once-by-catherine-bybee.epub
Original Title:Fool Me Once (First Wives Series Book 1)
Creator:

Catherine Bybee

Language:en
Identifier:ISBN:9781612185071
Publisher:

Montlake Romance

Date:2017-09-18T16:00:00+00:00
File Size:572.502 KB
Table of Content
1. Praise for Catherine Bybee Wife by Wednesday "A fun and sizzling romance, great characters that trade verbal spars like fist punches, and the dream of your own royal wedding!" —Sizzling Hot Book Reviews, 5 Stars "A good holiday, fireside or bedtime story." —Manic Reviews, 4½ Stars "A great story that I hope is the start of a new series." —The Romance Studio, 4½ Hearts Married by Monday "If I hadn't already added Ms. Catherine Bybee to my list of favorite authors, after reading this book I would have been compelled to. This is a book nobody should miss, because the magic it contains is awesome." —Booked Up Reviews, 5 Stars "Ms. Bybee writes authentic situations and expresses the good and the bad in such an equal way . . . Keep the reader on the edge of her seat." —Reading Between the Wines, 5 Stars "Married by Monday was a refreshing read and one I couldn't possibly put down." —The Romance Studio, 4½ Hearts Fiancé by Friday "Bybee knows exactly how to keep readers happy . . . A thrillin
2. Unnamed
3. Also by Catherine Bybee Contemporary Romance Weekday Brides Series Wife by Wednesday Married by Monday Fiancé by Friday Single by Saturday Taken by Tuesday Seduced by Sunday Treasured by Thursday Not Quite Series Not Quite Dating Not Quite Mine Not Quite Enough Not Quite Forever Not Quite Perfect Most Likely To Series Doing It Over Staying For Good Making It Right Paranormal Romance MacCoinnich Time Travels Binding Vows Silent Vows Redeeming Vows Highland Shifter Highland Protector The Ritter Werewolves Series Before the Moon Rises Embracing the Wolf Novellas Soul Mate Possessive Erotica Kilt Worthy Kilt-A-Licious
4. Unnamed
5. This is a work of fiction. Names, characters, organizations, places, events, and incidents are either products of the author's imagination or are used fictitiously. Text copyright © 2017 Catherine Bybee All rights reserved. No part of this book may be reproduced, or stored in a retrieval system, or transmitted in any form or by any means, electronic, mechanical, photocopying, recording, or otherwise, without express written permission of the publisher. Published by Montlake Romance, Seattle www.apub.com Amazon, the Amazon logo, and Montlake Romance are trademarks of Amazon.com, Inc., or its affiliates. ISBN-13: 9781612185071 ISBN-10: 161218507X Cover design by Shasti O'Leary Soudant
6. This one is for Tracy Brogan For obvious reasons
7. Contents Chapter One Chapter Two Chapter Three Chapter Four Chapter Five Chapter Six Chapter Seven Chapter Eight Chapter Nine Chapter Ten Chapter Eleven Chapter Twelve Chapter Thirteen Chapter Fourteen Chapter Fifteen Chapter Sixteen Chapter Seventeen Chapter Eighteen Chapter Nineteen Chapter Twenty Chapter Twenty-One Chapter Twenty-Two Chapter Twenty-Three Chapter Twenty-Four Chapter Twenty-Five Chapter Twenty-Six Chapter Twenty-Seven Chapter Twenty-Eight Chapter Twenty-Nine Chapter Thirty Chapter Thirty-One Chapter Thirty-Two Chapter Thirty-Three Chapter Thirty-Four Chapter Thirty-Five Chapter Thirty-Six Epilogue Acknowledgments About the Author
8. Chapter One Divorce cake was so much sweeter than wedding cake, and when that cake was served to a room full of women celebrating the freedom of a newly single, incredibly wealthy thirty-year-old, it tasted even better. Lori lifted her tumbler in the air and caught the gaze of Samantha Harrison from across the room. Another successful Alliance contract executed. Another payday for the both of them. Avery Grant, the divorcée of the hour, laughed over the volume of the music pumping through the expansive speaker system in the high-rise condominium. The unit sat several floors above Lori's in the same Los Angeles complex. The lofty space had been stripped of most of its walls before Avery moved in. She wanted it open, with massive views of the city twinkling below after sunset. Her husband of sixteen months liked his living space to resemble a Civil War–era colonial home, complete with cubicle-style rooms and drafty halls. It wasn't surprising to see Avery make a completely opposite choic
9. Chapter Two By the time Lori and Sam landed in the Hamptons, every newscaster, rag, and wannabe paparazzo had beat them there. Cameras blinded them as the car passed through the gate of the Petrov estate. Thankfully, the media had no idea who Lori was, so she rushed in first. But when Sam stepped out of the car, cameras renewed their frenzy. Sam had already established herself as Trina's friend, so her presence wouldn't be questioned. Lori found Trina sitting on a chaise in her bedroom with an empty bottle of wine at her side. The dark skinned, ebony haired woman looked up when Lori entered the room. She'd been crying. A broken shell of the woman Lori had last seen just six months before. One look in Lori's direction and Trina's tears flowed again. Lori folded Trina into her arms and listened as she sobbed. Through hiccups, Trina spoke. "I didn't sign"—Lori patted Trina's back—"up for this." "It's okay . . . you're going to be okay." Trina buried her face in Lori's shoulder. Lori looke
10. Chapter Three There were reasons why Lori's caseload was lighter than that of the average divorce attorney to the rich and famous. She spent very little time in front of judges hashing anything out. Her practice was built on prenuptial agreements and premeditated divorces. These took up over half of her calendar and added to her retirement plan faster than any divorce lawyer could have dreamed. When cases like Trina Mendez-Petrov's took a significant turn for the worse, she had ample time to deal with them and enough professional clout to obtain the required court delays with her current inbox of clients. Lori stood poised, with massive sunglasses covering her eyes, a wide-brimmed hat covering her head, and her chin held high in the lobby of the Mandarin Oriental Hotel in Barcelona. The hotel dripped opulence and sophistication. It screamed money, and lots of it. Attendants stood everywhere, their uniforms crisp, their smiles painted on. Fresh flower arrangements featured exotic plants
11. Chapter Four Sugar daddy. Reed couldn't help but wonder if Miss Single had one of those, past or present. He enjoyed the view as she sashayed away. Honey blonde hair, a sparkle in her blue eyes that wasn't flighty like her overly animated friend's. There had been a smirk behind her serious expression, and when she had started on the pole dancing line. She had curves, and that ass . . . yeah, a week on the open sea pursuing that one was a challenge he happily accepted. His eyes landed on the bill, which had her room number on it. One of the penthouse suites. He wasn't surprised. This woman, and those she surrounded herself with, dripped with sophistication and money. He took a pull on his longneck beer and opened the daily itinerary the ship provided. He reached for the pen left behind by Miss Single and circled a singles mixer dance party for later that night. None of the women Miss Single was with wore wedding rings, so it was safe to say he'd find them among the unattached on the shi
12. Chapter Five If Reed stood in the window to the yoga room much longer, someone was going to tell his voyeur ass to move along. He wasn't surprised to see Lori bending and stretching in ways the body didn't normally move, but the sight of her butt held tight by a pair of black yoga pants . . . that's what snagged his attention and wouldn't let go. He was half-willing to join a yoga class just so he wouldn't be so obvious. His eyes kept level with her ass as he walked by the glass doors. He snapped out of his trance and quickly looked around the gym. He decided to burn through a few miles of frustration with the free weights until the yoga class was over. Reed worked through his daily routine in half his normal time, his eyes tracking on the yoga door. A tall blonde wearing a purple sports bra and shorts that should be illegal anywhere other than by a swimming pool stopped in front of him. "Ar det tungt?" "Excuse me?" He didn't recognize the language, and with over forty different nation
13. Chapter Six "Antonio!" Reed greeted the man he'd met the night before. They shook hands. Around them swam a sea of bikini-wearing women sporting suntan lotion and consuming copious amounts of liquor. The DJ pumped music loud enough to bust eardrums, and a walkway was set up in the middle of the deck. "What's going on?" Reed asked the Italian. "Male exploitation." "Male what?" "Male fashion show without clothes." Naked? That didn't sound right. Antonio pointed to the lineup of men wearing Speedos and shorts. Reed noticed Trina and Avery spreading oil all over two of the men that were part of the previous evening's party. "Looks like someone is having fun." "That Avery is a party." "Looks like it's rubbing off on her friend." Reed looked around to see if Lori was nearby. Sensing what he was searching for, Antonio pointed toward the massive swimming pool. "The others are over there." "Should we drag them over here?" Reed asked. "I'm not walking on that stage." Yeah, neither was Reed. "I'v
14. Chapter Seven Lori slipped into a midcalf-length sundress and jeweled sandals. The sun had given her face more color than she normally had, so makeup consisted of mascara and lip gloss. Strange how living in Southern California didn't add a glow to her face, yet less than three days on the Mediterranean had. She glanced at the time when someone knocked on her door. "You're early," she called out. "It's Trina." Lori hustled to the door to let her in. "You look nice," Trina said, closing the door behind her. "It's just dinner." And she was more nervous than she cared to admit. "If my opinion is wanted, I think Reed is a decent guy." "We've known him less than forty-eight hours." "And I'm sure there is a lot to know, but if this is a weeklong affair, what does it matter?" Lori had been asking herself that question since she met the man. "You're right." She shook her head. "I'm overthinking this." "I'm glad you said that. It isn't like you just buried your husband, or just divorced your hu
15. Chapter Eight By the time the ship pulled into position for the day, Reed was up, showered, and logged in. He started with Shannon Redding-Wentworth. From mainstream media to gossip magazines, Shannon was everywhere. She came from a wealthy family, married Paul Wentworth while he was campaigning for the governor's office in California. He had brought himself up to speed on her story before he arrived on the ship. His client knew about the cruise but didn't have knowledge of who she was sailing with. Reed knew his client was looking for something scandalous by way of a romantic interlude with the former first lady and would be disappointed that wasn't the case. Reed backtracked through her life by looking up the private details of the governor. He found a wedding photo of the couple, and then another few sprinkled in at the reception. He clipped them into a file and moved forward to the announcements of the divorce. Public records determined irreconcilable differences caused the divorce
16. Chapter Nine Reed watched her from across the crowded deck. Lori pulled Trina aside and they put their heads together. Trina swayed, and Lori caught her arm and guided her to a chair. Lori looked around the two of them and ducked her head close again. Reed swept the deck with his eyes, wondered if anyone else noticed the tension between the two women. From his periphery, he saw someone watching them. A woman, her back was to him. But her eyes followed Trina and Lori just as closely as Reed's. When she looked toward an upper balcony, Reed followed her gaze, saw the back of a man turning away. Miguel? He waited to see if Miguel was going to take the stairs and approach Lori and Trina, only he didn't. It was as if he was observing, just like Reed. Just like Reed and the unknown woman. Lori kept one eye on Trina, the other on the show. "Is everything okay?" Avery leaned over and asked Lori. Lori shook her head. Trina was understandably upset. Finally Trina gave up on the show, stood withou
17. Chapter Ten The ship was like Vegas and New York City all rolled into one. Between the different nationalities and the party atmosphere, the cruise ship never slept. Reed had to remind himself he was working more than once. Reed read Lori's text about going to the dance club they'd played in the first night and responded by showing up half an hour later. His eyes took some time to adjust to the scene because of the flashing lights on the dance floor. He considered his plan to arrive late a win until he reached the table she occupied with her friends to find Miguel and Rogelio whispering Spanish sweet bullshit into Avery's and Trina's ears. Lori waved him over. Her honey blonde hair was down. Something he wasn't used to seeing. So far their time in the Italian sun had her pulling her long strands away from her face in a clip or a band. But this, this soft look around her high cheekbones, he liked. Her blue eyes sparkled in the lights, the color of her skin from the Mediterranean sun off
18. Chapter Eleven Lori, Shannon, and Avery opened the doors between their adjoining rooms and tag teamed sleep during the night. The ship's physician deemed Trina intoxicated with the chance of drugs in her system. Since that particular combination wasn't unheard of on the ship, and since with some effort he could wake her and her vital signs were stable, there wasn't a need to take her down to the infirmary. He did leave a cup for her urine sample so they could test her for drugs. "I don't need that. I just had too much to drink," Trina protested the pee cup the next morning. "But you didn't." Avery sat cross-legged on the bed where Trina sat holding her head. "I feel like I did." "What do you remember about last night?" Shannon had joined them shortly after the doctor left. Lori left a message in her room for her via Datu, and she camped out with the rest of them. "We had dinner." "We were at the club. Do you remember dancing?" "Yes." She shook her head. "Kinda." Lori thrust the cup tow
19. Chapter Twelve She couldn't remember the last time she went to the movies on a date. Dates for her had been dinner, talking, and deciding if the man was breakfast worthy. Reed offered a nice change. She liked the man. He seemed genuinely interested in Trina's health, and concerned the night before when they couldn't find her. His chivalry came in the form of opening doors, listening without interruption, and remembering a blanket from the room. The fact that he was easy to look at was a bonus. Lori wondered what he thought about her. She questioned what he saw in her that kept him coming back. It wasn't like he was pushing to get her into bed. Maybe he was turned on by intelligent conversation. Although Lori had never considered herself in that pool, she was starting to change her mind. Then again, she'd done most of the talking, clearly attracting him, while he was doing the manly things that shot her pulse on high. "I hope you like popcorn." Reed walked up from behind her, a giant bu
20. Chapter Thirteen Lori was drunk on orgasms, Reed could see it in her face, could feel it in the lazy touch of her hands. If he were being honest with himself, he'd admit he was as loose as a doll made of string. With her head tucked into the crook of his arm, Lori traced imaginary circles on his chest, which managed to arouse him more than once already, and it was only one in the morning. "Have you always been in California?" Lori's pillow talk was a bit of a minefield. Reed had learned early on to give as many facts as he could without telling everything about himself. "Mostly. Spent a little time in my twenties traveling around. How about you?" "Born and raised. Did my undergrad in Chicago, froze my butt off for four years, then law school at Columbia." Her leg was tucked up beside his, his hand rested on her naked thigh. He gave her butt a tiny slap. "Where you froze more of this off." She laughed and wiggled her rear end. "I couldn't wait to get back to the sunshine." "And traffic.
21. Chapter Fourteen It was formal night on the ship, and Lori and the others decided fancy dresses and high heels were in order to accompany their dinner reservations at one of the fancier restaurants on the ship. That was until Trina pounded on her door and pulled her into Avery's room. "Her jewelry is gone," Trina exclaimed once they were both hovering over Avery, who knelt by the open safe. "What do you mean, gone?" Avery looked up at Lori as if she were the ripe old age of three. "Ripped off. Someone stole my shit." Lori knelt down in the slim-fitting formal dress and looked at the empty boxes inside Avery's in-suite safe. "For crying out loud." She stood. "Don't touch anything." Minutes later, Lori stood outside of Avery's stateroom while security and some of the Italian brass on board asked Avery questions. They were drawing a crowd. Datu stood to the side, his face sheen white, his hands visibly shaking as his boss questioned him. "Does she know how much the jewelry was worth?" Sha
22. Chapter Fifteen Jet lag was a combination of the hangover of a lifetime and receiving an injectable dose of caffeine at two in the morning. Lori looked at her bedside clock as two in the morning turned into two thirty. She'd punched her pillow, turned it a few times to see if cooling her face would lure her to sleep. Nothing worked. She had an early morning meeting followed by lunch with Sam to go over all the details of her trip, and at this point Lori was fairly certain she'd be dozing off in her soup. Giving up, she switched on the dim bedroom lamp and grabbed her cell phone. Was he thinking about her? Did Reed toss and turn in his bed, close his eyes, and sense her beside him? On the ship, she'd been inundated with responsibility and still managed a little romance. Now that she was home in bed . . . without the swaying of a ship reminding her that she had a job to do, her mind kept flashing back to Reed and his smile, the way he held her, kissed her. The problem with the thoughts m
23. Chapter Sixteen Lori counted the hours until her date with Reed. Okay, maybe it wasn't a date so much as a prescheduled booty call. But hey, she bought a few things to go with the wine he was bringing, so it could double as an actual dinner date. With her hands loaded with bags from the store, Lori exited the elevator to her condo and fished her keys out of her purse. She fiddled with the door twice before managing to unlock the thing. Two steps inside she heard someone in her kitchen. Her first thought was Reed . . . not that he could have gotten in or that they'd gotten to the point where he would just appear without invitation. Lori hesitated when she saw Avery ducking into her wine fridge. "You don't have chardonnay." She dropped her bags on the counter. "Ah, hello, Avery." "You don't like white? I can do red, if that's all you have." Lori dropped her purse, looked at the clock on the wall. "There are a few pinot grigios in there." Avery ducked back in, pulled out a white. She move
24. Chapter Seventeen Lori stepped away from her priority seat on the commercial airline slightly frazzled. The hour delay on her flight gave her very little time to commute into Manhattan for her two o'clock meeting with Mr. Crockett and Trina. Thankfully, she didn't need to stick around the airport for luggage since she only had a carry-on. "I'm late," she told the driver she'd hired to pick her up from the airport. The second he closed the door and settled behind the wheel, she said, "I'll pay for your speeding ticket." He glanced at her from the rearview mirror and sped off. Gotta love New York. Hand gestures and horns, the drivers took a "hold no prisoner" approach to driving in order to get where they wanted. How any of the cars there survived was a mystery. Lori fingered through the files on Alice Petrov and her estimated wealth that she'd obtained before Trina married Fedor. During her flight, she'd spent the first hour reading before lingering jet lag knocked her out. When she wok
25. Chapter Eighteen Lori called the driver from the morning's commute to drive her to Trina's estate. Within a half an hour, she was en route out of the city and on the phone. "Our client's father-in-law cornered me," she told Sam from the back seat. "Explain 'cornered.'" Lori told her about Ruslan's actions. "I'm not going to lie, he rattled me." "I don't like this, Lori." "I'm not exactly a fan either." She watched the city disappear behind them as they entered the tunnel and left Manhattan. "Extra security for you." "I don't have anything the man wants." "If that's true, why did he approach you in the first place?" Lori hesitated. "I'm calling Neil." "Sam!" "You can argue, but you're not going to win. Where are you now?" "On my way to Trina's." "You're staying with her?" "I am." "Okay. I'll make sure there's a shadow for you when you land back in LA." Lori groaned. "Get over yourself. I've had a shadow forever." "You're married to a duke," Lori reminded her. "As if anyone cares about t
26. Chapter Nineteen Reed arrived at Lori's condominium complex before she did. The doorman wasn't the same man as when he was there several days before. Reed made sure to make eye contact and smile as he moved past the doors and to the concierge desk. The petite African American woman behind the desk smiled as he approached. "Good afternoon," she greeted him. "Hello. Reed Barlow for Ms. Cumberland in 1208." She glanced at the computer. "There you are. I see that Ms. Cumberland is out of town until this afternoon. It's our policy to advise guests to call on our residents when they are home, Mr. Barlow." Good, they didn't just let people in. "Lori's on the way from the airport now." She kept smiling. "You understand that we need to have you wait for her down here unless she advises us otherwise." "Perfectly acceptable," he told her. He removed a photograph from his back pocket, slid it across the desk. "Have you seen this man, by any chance?" "I don't believe so." "He's made threats toward
27. Chapter Twenty "I need more information from you," Reed told his client the following Monday. "What kind of information?" "You want to discredit Wentworth." "If you say it a little louder, the whole world will hear you." Reed put his phone to his other ear and stared at his wall while he spoke. "One politician slinging mud at another isn't news. It's expected. Besides, my line is secure." "Yes, Reed. I've told you this." "And you're looking at his ex-wife to find something." "Most ex-wives are pissed enough to let something out." Except Shannon wasn't pissed . . . she was hurt. "If she's ticked, she's not showing it." "Wentworth is way too clean. The state was charmed enough by his whirlwind wedding and delightful bride to elect him. Even their divorce barely put a dent in his armor. No one is that spotless." Reed agreed, but he didn't see a victim here. The public at large wasn't unhappy with the current governor, nor had they been overly distraught when the man divorced. In fact, the
28. Chapter Twenty-One Humidity hit them as soon as they exited the airport. "I could never live here," Lori muttered as Reed placed their luggage in the back of the rental car. "I spent a summer here when I was a kid, swore I'd never do it again," he said, keeping small talk going while he kept an eye on the people walking around. Sasha had walked right through first class before sneaking just out of the first cabin and settling two rows back in coach. The back of Reed's head burned the entire flight. Lori slid into the passenger seat, and he took one more look around before taking the wheel. "If it wasn't so hot, I wouldn't mind traveling here more often. The people seem to take life a little easier." "Nothing slows down in LA." She pulled her shirt away from her chest a few times, and he twisted the fan on high. "Okay, copilot. Where am I going?" Reed asked. "The hotel. I'll touch base with Trina, and then we have dinner with Alice's sisters. Tomorrow we face the board." Reed removed hi
29. Chapter Twenty-Two Reed caught the whites of Sasha's eyes as they walked into the lobby of the hotel. She slipped into the hotel bar while he and Carl, Trina's bodyguard, walked the women up to Trina's suite. Lori had made it clear she needed to talk with Trina alone before the meeting with the board. Once the three of them were in the room, he made his excuses and made his way to the hotel bar. "Here to buy me a drink?" Sasha asked, tipping her amber-filled glass in his direction. Reed waited until the bartender moved away to get him his beer. Watered down liquor was a better idea than anything hard he might be tempted to slam. "You work for Petrov." It wasn't a question. Her sigh might be seductive to a man who didn't already feel the need to protect another one. "I work for the highest bidder, just like you." "I'm not like you." "Which is why you're down here talking to me instead of watching over your woman." His back teeth started to strain under the pressure he placed on them. "T
30. Chapter Twenty-Three "Change of plans," Lori announced when she walked into the room at the hotel. "You finally decided to try skydiving?" Reed teased. He was sitting by the window, his laptop open. "You wish. No . . . but horseback riding might come into play." She moved to the closet and removed her suitcase. He closed his computer. "Horses include luggage?" "You're a funny guy." Reed moved behind her and wrapped his arms around her. "I crack myself up all the time." He kissed her neck. Her spine chilled. "None of that. We're going to Trina's." "Across the hall?" "That would be a bit crowded. No . . ." Lori rolled out of his arms and into the bathroom to gather her toiletries. "Alice left a ranch to Trina." Reed moved to the doorway, leaned against it. "Let me guess, one of those houses is right here in Texas." She picked up her makeup bag and patted Reed's cheek as she walked by. "Funny and wise." "I take it today's visit to the oil company went well." "It did. Trina is finally star
31. Chapter Twenty-Four Reed rolled his special pen in his hand while he glared at the flash drive microphone sitting on his desk. What the hell was he doing? Was this how good cops turned bad? One case? One twist of ethics that turned them into douchebags playing for the wrong team? At some point in this investigation he'd sold a tiny bit of his soul. Because the more he learned about Lori and her gaggle of rich and lonely friends, the more he felt for them. And who would have thought that was possible? God, what the hell was wrong with him? He knew sleeping with her had been a bad idea the first time he'd done it. He couldn't help himself. And now . . . he didn't want to help himself. He felt like an addict every time he drove to the city. One last time, he'd chant. Plant the bug, make his excuses . . . then she'd smile and the lawyer in her would stop at the door and the flirt wearing a thong would come out. Yeah, he wasn't going anywhere. Because Ruslan was gunning for her. And Sasha w
32. Chapter Twenty-Five When another week passed without so much as one sighting of Ruslan and his men, Lori shooed off the bodyguard. "Neil isn't going to be pleased," Cooper told her as he tried to talk her into changing her mind. "Good thing Neil's opinion isn't needed here. I might feel a little guilty if I thought you'd be out of work, but I know that isn't the case." "The Harrisons will be back in a week. I can hang until then." Lori felt the need to pack Cooper a lunch to send him on his way. "And I'll talk to Sam in a week. Sooner if I need to. Now c'mon . . . you're a young guy. I'm sure there's some hottie out there waiting to spend time with you." Lori stood behind her desk and checked the time. Her next client was in five minutes. She'd scheduled the time to buzz Cooper off between clients to avoid argument. It wasn't working. "Just because everything is silent doesn't mean there aren't things in play." "That may be, but my life has been interrupted enough because of one man's
33. Chapter Twenty-Six Reed placed both hands on the wall in his office and cringed. Lori made a decent living working the legal end of Alliance alone. Million-dollar mergers from which she made a percentage. No need to go to court. No need to file extra papers. Write up a prenuptial . . . execute a prenuptial. What a scam. Only none of it was illegal that he could see. There might be a question of morality, and certainly in the case of Trina Petrov, someone, somewhere was going to question the legality of a fake marriage resulting in her ending up with half a billion dollars. And yes, Paul Wentworth and his fake wife, Shannon, wouldn't be very credible if the facts leaked to the public. He had the information his client needed. Not the proof, but enough to deliver, collect a check, and walk away. Reed knew, without a second look, he wasn't going to deliver this information to Senator Knight. She'd find out the public facts. Lori Cumberland worked with the rich and famous, and she was the
34. Chapter Twenty-Seven All night he'd wanted to confess. The trip was his way of taking her miles from home, where she couldn't run off, where she had to listen to his story and how he'd managed to get where he was. And somewhere, in all his fucked-upness, he would convince her he wasn't a bad guy. Only now, she was sound asleep in his arms, and he was staring out the open window, letting the sound of the ocean keep him company. He'd tell her in the morning. Slowly, his body sank into the mattress and his mind numbed enough to sleep. A buzzing woke him hours later when the sun started to brighten the morning sky. Half-awake, he recognized his cell phone was the source of his alarm. Because the ring had been silenced, the only sound was the buzz and vibration on the bedside table. He rolled over, planning on ignoring it and enjoying the warm body snuggled next to his, when the thing went off again. He flung his arm out, grasped the thing, and took a quick look at the flash on his screen.
35. Chapter Twenty-Eight Reed's first thought was to call Danny, but then he switched gears. He picked up speed on the freeway in an effort to catch up to the black sedan taking Lori home. The desk and valet at the hotel delayed him long enough to give Lori a fifteen-minute head start. The phone through the system in his Jeep rang several times before Cooper picked up. "Cooper." "It's Reed. I need you to be at Lori's when she gets there." "Is she okay?" The tone in Cooper's voice said he was waking up. "No. I fucked up. She's not thinking straight." "What the—" "I'm sure you'll hear the details, but what you need to know is she is still being watched. Petrov has a woman following her. Five seven, looks like a Russian movie star, complete with an accent, although she spoke at least two languages. Who knows how many more. So she might be able to disguise herself." "How do you know all this?" "Not important. Just be there, Cooper. Lori should be back home within the hour. If she won't let you
36. Chapter Twenty-Nine Once Lori stopped crying, Avery made her get dressed so she could drag her away from her condo. Cooper shadowed them while a new set of men moved around her space, searching for more bugs. This time placed by Reed. Sam met them with bags of food from a local restaurant and several bottles of wine. Avery Ubered in ice cream and chocolate. With all the breakup food covered, the three of them sat around Avery's living room with music playing in the background. Sam was the hardest to look at. Lori trusted the wrong man, and now everything the woman had worked for was at risk. "I'm so sorry, Sam." Fit for the occasion in yoga pants and a big sweatshirt, Sam crossed her legs under her. "Okay . . . you've said that, now let that go. Whatever Reed did, or is doing, isn't on you." "I trusted him." "We all trusted him," Avery said from her kitchen, where she gathered dishes for their lunch/dinner/whatever meal it was when you only ate once in a day and planned to be pissing d
37. Chapter Thirty "What are we watching?" Reed had his unwelcome partner park up the street from a mail center. "I managed to acquire a credit card number from Sasha. It was sent here." Rick peered out the window. "What makes you think she's ever coming back?" "She might not, but until she uses the card, it's all I have to go on." "How often have you been sitting here?" "Whenever I wasn't with Lori. And when I was, I had a colleague helping out." "I thought you said you didn't like partners." "Colleague, not a partner." "How sure are you that she works for Petrov?" The question made his head itch. "She knew of Petrov . . . and she knew of the person who hired me." "So she's good at what she does." "Yes." "How soon will we hear from your contacts with the fingerprints?" Reed told them about the wineglass and cell phone. "Takes a day to run through the database. The fact she had the card sent here points in the direction that she might be local." "That was my guess, too." Rick looked at the
38. Chapter Thirty-One Reed's ass had melded to his desk chair as he searched the Internet for pictures from the cruise to get an image of Sasha. Trying to find out the names of the people on the airplane he had shared with Lori en route to Texas was a waste of time. TSA had shut those things down like the locks at Fort Knox. Pounding on Reed's front door shook him from his caffeine coma. He reached for his gun, loaded the chamber, and slowly walked to his door. "Put it away, Reed." Sad that Reed had already learned the sound of Rick's voice. He relaxed the grip on his weapon and opened the door. "What now?" Rick ducked his head into Reed's apartment. "Dude, you need to clean up around here. Women hate slobs." "Everyone's a critic." He opened the door wider. Rick didn't bother walking in. "C'mon." "Where are we going?" "Sasha used the credit card." Reed shook the dark away. "'Bout time." He ran through his apartment, turned off his computer, grabbed his cell, his keys, and put on a jacket
39. Chapter Thirty-Two "Sam's on line two, she said it's an emergency." Lori accidentally pressed the wrong line. "Sam?" "I'm on hold for—" She disconnected the man on the line, pressed the next one. "Sam?" "Lori?" "What's happening?" Her heart was pounding. Sam didn't cry wolf, and emergencies were never mentioned unless it was. "I need to know exactly how you met Susan Wilson." "The new client?" "Not a client. I scheduled a quick meeting to get a feel for her. Before I had an opportunity to really speak with her, Rick and Reed showed up." Lori's head spun. "Reed? What was he doing with—" "I don't have the details. They ran out the door. The woman is obviously not who she says she is. No new clients on either end until further notice. Now tell me again how this woman approached you . . ." Once the call with Sam was over, Lori pushed away from her desk and stormed into her lobby. Her resident loiterer glanced up, smiled, then looked back down to his book. "Cooper!" He snapped his eyes up.
40. Chapter Thirty-Three "I don't have it." Petrov slowly rubbed the edges of his fingers against the Colombian cigar. "That isn't the right answer," he said into the speakerphone. "I need more time." "You're out of time." "Wasn't it I who told you about Alliance? Wasn't it I who led you to the lawyer in the first place?" "The lawyer who is physically surrounded by security and cameras. A lawyer who has managed to tighten up one loophole after the other in less than a week. A paltry woman who is no longer the easy target you claimed she would be." The cigar snapped in his hand. "Another week." "Belinda, do you know what I do to people who disappoint me?" "These things take time." "Four days." "Petrov!" "Four. Days." He ended the call and rang for his help. "She's a loose end. Take her out in three days, sooner if she makes contact." A half nod and his guard backed out of the room. Petrov looked at the broken cigar in his hand before crushing it inside his fist. All week long her head was b
41. Chapter Thirty-Four Reed answered his phone without looking at the number. "The favors keep adding up, Reed." He dropped the fork that was halfway to his mouth. "What the—" "Warehouse." Sasha rattled off an address as he scrambled to find a pen. He wrote the information down on his hand. "Is it Lori?" he asked. "Her brother. Who all of you overestimated to be able to fend for himself." Reed's brief relief was followed by renewed panic. "Why Danny? He doesn't know anything." "Leverage. Desperate people do desperate things. Might wanna hurry. Petrov's men are coming for the woman holding him, but will think of him as collateral damage and take the shot without asking. Bring backup. I draw the line at killing anyone for a job." "How many men?" "She has two, I count three of Petrov's goons. None of these men have tasted a carb in five years." "Stay out of the way." "Ahh, you care." He hung up in reply. He walked right up to the terribly hidden camera in a vent, stared at it, and read off t
42. Chapter Thirty-Five He jumped out of the Jeep, running. Sandwiched between a cardboard factory and a building warehousing something in the fashion industry sat the botanical warehouse Sasha identified as housing Danny. It was Sunday, and the unions did a great job of making sure work halted for the weekends. Outside of a few cars scattered around, there wasn't any outside activity. He felt the mist known as Sasha nearby. He practiced evasive maneuvers in an effort to not give away his position as he moved from building to building. The sporadic windows of the botanical warehouse were close to the eaves of the two-story building. None of which were accessible to him . . . or anyone else. He swept his eyes over the rooftops and didn't see movement. The massive door to the warehouse was open by an inch. Instead of considering that route, where he would have placed a guard if he were holding someone hostage, Reed looked for other options. The north side of the building presented itself. Ou
43. Chapter Thirty-Six Two Weeks Later "Okay, the first official meeting of the First Wives Club is coming to order." Avery needed a gavel. Lori made a mental note to buy one for her and have it engraved. "Didn't our first meeting happen in Spain?" Shannon asked. "Okay, our second official meeting of the First Wives Club," Avery conceded. They were in Avery's condo, having a wine and cheese meeting. Trina had flown in, happy to spend a weekend in LA. Shannon poured wine and handed everyone a glass. "What is on our agenda tonight?" Trina laughed. "We have two very important items to discuss, and we need to start our bylaws." Shannon leaned over, pretended to talk quietly, when everyone could hear her. "Man, she's taking this seriously." "I'm learning from Trina, our resident student of business." Trina lifted her glass in acknowledgment. "Okay . . . rules." "We have rules?" Shannon asked. Avery rolled her eyes. "Everything we say here is confidential unless otherwise stated." "I like that,"
44. Epilogue Reed played with the tie around his neck, did the around thing, the under thing, and then the give up thing. "Babe?" "It's not that hard!" Lori said from the kitchen. "Yes it is," he muttered as he pulled it from his neck, turned the light off, and followed her voice. He made it two steps into the room and froze. Lori in Christmas red with a crisscross of spaghetti strings where the back of the dress should be rendered him speechless. Tiny white lights glistened off the sparkle in the material and the diamond earrings that dropped from the lobes of her ears. "No it's not," she said, turning toward him. "What?" He had to catch his breath. "You're stunning." Her heels clicked, and the material of the dress clung to her breasts in a wispy caress. Delicate fingertips took the tie from his hands and worked their way up his chest. "How can I deny you with your compliments?" The scent of perfume stole his thoughts. "There." She patted his tie after pulling it close to his neck. "How
45. Acknowledgments So many people to thank, and only one page to do it. First, and probably most important, would be my readers. You crazy kids kept asking me for an eighth day of the week so that I could extend the Weekday Brides. Even my publisher asked if I could pull that out of my hat. But alas, there are only seven days in the week, and as much as I tried, an eighth day didn't manifest. Someone mentioned a Holiday Brides Series, and I thought . . . I might be able to do that. Then I thought, let's make this a divorce bride series. Since yours truly has had the real-life drama of her own divorce in the past couple of years, I realized I could add some depth to the plot line. Thank you, readers, for wanting more, and thank you, Montlake, for seeing my vision. Now on to the name-dropping. Thank you, Jane Dystel, for always being there for me, not just as my agent, but as a dear friend. Between a divorce, fire, and floods, you're the one who always checked in. Everyone at Montlake for t
46. About the Author Photo © 2015 Julianne Gentry New York Times, Wall Street Journal, and USA Today bestselling author Catherine Bybee has written twenty-seven books that have collectively sold more than three million copies and have been translated into twelve languages. Raised in Washington State, Bybee moved to Southern California in hopes of becoming a movie star. After growing bored with waiting tables, she returned to school and became a registered nurse, spending most of her career in urban emergency rooms. She now writes full-time and has penned the Not Quite series, the Weekday Brides series, the Most Likely To series, and the First Wives series.