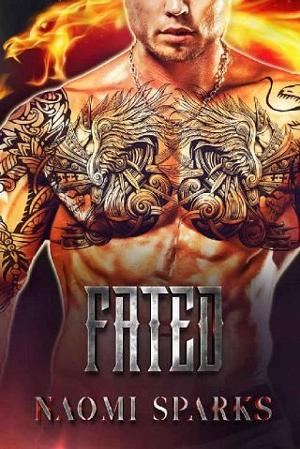 The rules are simple. Get in, get out.
We don't stay in any place longer than one night.
That goes for relationships, too.
It's too dangerous, and not just for us. We're hunted by shifters who have no rules, no limits, and will not stop until they destroy everything and everyone we love.
Then, I saw her. I couldn't not see her.
She's beautiful, but it's more than that. From the moment our eyes met, my dragon knew she was meant for me.
Which means she's the one woman I can never have.
I should stay away. I know this. But I can't. She's in big trouble, and I'm the only one crazy enough to protect her.
The only question is: am I strong enough to protect her from myself?
File Name:fated-by-naomi-sparks.epub
Original Title:Fated
Creator:

Naomi Sparks

Language:en
Identifier:MOBI-ASIN:B0842RV7F7
Publisher:

naomisparks.com

Date:2020-01-19T16:00:00+00:00
File Size:222.776 KB
Table of Content
1. Title Page
2. Contents
3. 1. Lex
4. 2. Hannah
5. 3. Lex
6. 4. Hannah
7. 5. Lex
8. 6. Hannah
9. 7. Lex
10. 8. Hannah
11. 9. Lex
12. 10. Hannah
13. 11. Lex
14. 12. Hannah
15. 13. Hannah
16. 14. Lex
17. 15. Hannah
18. 16. Lex
19. 17. Hannah
20. Also by Naomi Sparks